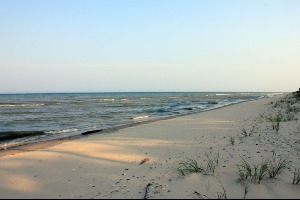 Blue-green algae is a problem that plagues many beaches in Dane County. Too much exposure to this bacterium can lead to high risks of health issues such as sore throats and rashes. The toxic algae flourish in Dane County's phosphorus-rich lakes decreasing water quality and resulting in beach closings. John Reimer, a civil engineer and assistant director of the Dane County Land and Water Resources Department, is using new technology to keep the beaches clean and closings at bay while Dane County and local partners work towards long-term water quality improvement.
Reimer designed the Clean Beach Corridor, which utilizes a series of barriers, pumps, and filters to improve water quality. The barrier, which goes all the way down to the lake floor, prevents unwanted substances from getting in. The treatment system uses plastic barriers to section off a part of the lake for beach-goers, creating an "in situ" swimming pool.
Water inside these barriers is pumped to a treatment facility to be purified. A strainer inside the facility removes larger matter, such as weeds, and then sends the water to a sand filter. This filter removes smaller particles, including the infamous algae. The algae is sent to the Metropolitan Sewerage District Treatment Plant while the filtered water goes through an ultraviolet system to eliminate harmful microscopic bacteria. The clean water is then pumped back into the swimming area. The treatment facility runs twenty-four hours, seven days a week and is capable of cleaning all the water in the swimming area within one day.
So far, the $80,000 system has been a success at the two county parks that use the technology: Goodland County Park and Lake Mendota County Park. "We've seen less beach closings and lower algae and E. coli levels than beaches without the clean beach system," reported Reimer.
The Clean Beach System, or a modified version of it, is currently in use at three beaches in Dane County with plans to expand. One limitation of the system is that the barriers do not hold against large waves. Reimer is working on new designs that will include wave-proof barriers. "There's been a discussion about dealing with waves by creating a boardwalk-type system," he said. Alterations like these will make the system more suitable for a wide range of conditions.
The Clean Beach Corridor creates a better environment for people and aquatic life alike. "Our lakes are the place to be when southern Wisconsin summers turn hot and humid, so it's imperative we do all we can to create fun, safe places for families to come and cool off," County Executive Joe Parisi stated, "this new Clean Beach Corridor means when a family packs up to head out to the beach, they know when they get here they'll be able to swim and have fun." Families deserve the right to go to the beach without the fear of becoming ill, and this plan is the first step of many working to make this goal a reality.
[Sources: Wisconsin State Journal ; Dane County Land and Water Resources Department ]