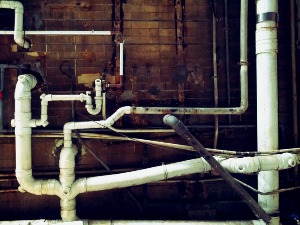 The Milwaukee Health Department has faced scorn in the past about their cursory disregard of the city's lead poisoning problem. It is estimated that 70,000 homes in Milwaukee currently have lead service lines. That number represents about 46% of all residences.
High exposure to lead causes severe development deficiencies in infants and toddlers. Although health risks are less likely for adults, lead can also cause headaches, stomach pain, and behavioral problems.
Despite the alarming numbers of lead pipes and the possible dangers that can result, Milwaukee´s Childhood Lead Poisoning Prevention Program has been constantly neglected. A recent report, commissioned by Milwaukee Mayor Tom Barrett and carried out by Health Department officials, unraveled the program's problems and possibly the reason behind Milwaukee's lead issue.
The poisoning prevention program suffered dramatic budget cuts in the past decade, starting at $6 million in 2009 and gradually dropping to $3 million, the allotted money for this year. In the wake of these cuts, staffing shortages and lack of employee training have caused poor coordination of activities. Multiple lead-related slip-ups have resulted.
The Milwaukee Health Department lacked documentation of at least 30 homes that were supposed to be tested for lead, and missing document numbers are predicted to rise. The number of housing units that were provided aid for lead problems decreased by half from 2012 to 2016. Last year, two children were sent home from school without further lead-testing, despite extremely high lead levels in their blood. Of the 6,022 families who should be contacted because of their child's lead poisoning, only 1,500 actually received letters from the city.
Many residents think government officials are not doing enough to prevent lead poisoning, especially for families with kids, as children are most vulnerable to the harmful substance. Although Milwaukee has been the epicenter for water complaints in Wisconsin, lead is still a problem throughout the state.
Wisconsin tends to de-emphasize the effects of lead and the role of lead pipes in towards lead poisoning. State law declares that lead water cannot be assumed to be the cause of lead poisoning; a child's blood lead level limit also needs to be exceeded at least three times before an investigation can be launched. Wisconsin Department of Health Services spokeswoman Jennifer Miller explained in an interview with wisconsinwatch.org that her department is "unaware of… drinking water as the primary cause of lead poisoning."
Whatever the source, lead poisoning is a large and unsolved issue in Wisconsin. In Milwaukee, 3,000 of 25,000 tested kids showed elevated lead levels. Statewide, 4.5 % of children are found to be lead poisoned. The importance of clean water will continue as a hot topic in Wisconsin.
[Sources: wisconsinwatch.org ; Milwaukee Wisconsin Journal Sentinel ]