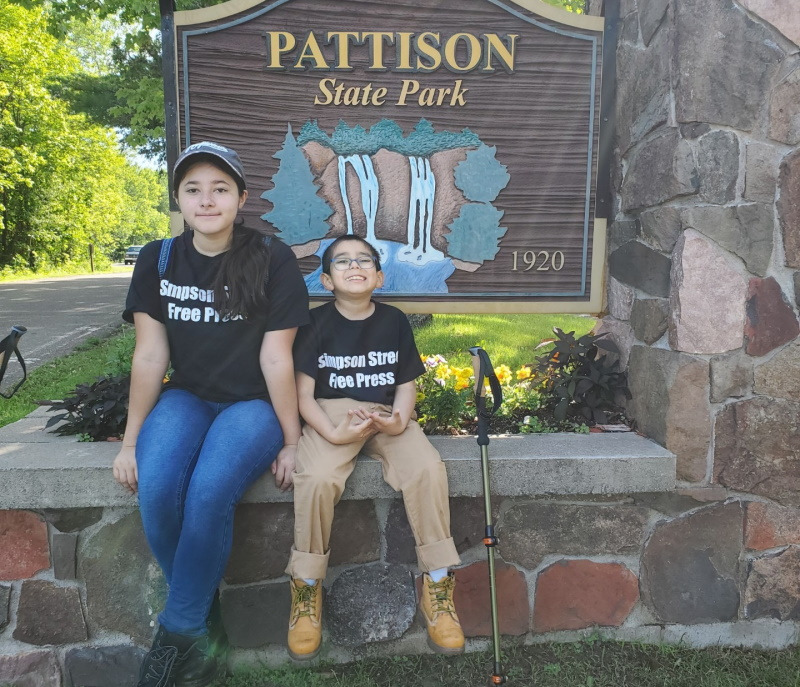 Our Camping Trip to Pattison State Park
by Jazmin Becerril Gonzalez, age 13
On a warm Sunday this summer, my family and I went camping for three nights in Pattison State Park in Superior, Wisconsin to celebrate my birthday. This state park has the highest waterfall in Wisconsin, Big Manitou Falls, which is 165 feet tall. The park sits on 1,476 acres of land.
After a long car ride from Madison to Superior, we finally arrived at the park around three o'clock in the afternoon. My first impression of the campsite was that it was very well-kept and clean. There are 59 family campsites, some with electricity if needed. My family of four, plus our big dog, brought a two room tent to stay in.
There are approximately 54 species of mammals and 200 species of birds in the park. Reptiles and amphibians, like toads, frogs, and salamanders, also live there. I almost stepped on a snake that was small and green with little yellow stripes. It scared my whole family!
During our stay, we swam at the 300-foot long beach on Interfalls Lake. We also visited both Big and Little Manitou Falls. The water on the falls moved faster than I had expected. We climbed to the top of Little Manitou Falls and looked down below at a little lake. We had to be especially careful there because there were no guard rails built at that site. On another hike we visited the Black River.
I couldn't imagine a more wonderful way to celebrate my birthday and I highly recommend this to other families who want to enjoy nature. If you or your family do decide to travel to any state parks, be sure to visit the state parks website . There you will find, maps, park history, and information on how to reserve a campsite.
[Sources: Travel Wisconsin ; Wisconsin Department of Natural Resources ]