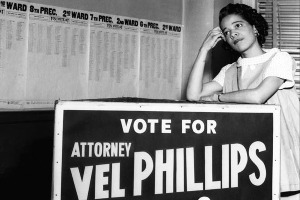 Wisconsin housing rights champion, Vel Phillips, took on many firsts as a Black woman in Milwaukee.
Coming out of the University of Wisconsin-Madison law school as the first Black woman to graduate, Phillips went on to pursue a career in local and state government. With the struggles of women and Black people in mind, she first began as a lawyer and activist, later becoming the first Black person and first female alderperson elected to the Milwaukee Common Council in 1956.
In her time as an alderwoman, she prioritized issues around housing in Milwaukee, introducing a fair housing bill that was struck down by her white male colleagues four times. Phillips then teamed up with the Milwaukee NAACP Youth Council and Reverend James Groppi in 1967, staging rallies and marches in the city.
Only four years later, Phillips made history once again after being appointed as a judge in Milwaukee County, becoming the first Black judge in all of Wisconsin and the first female judge in Milwaukee County. It was not long until she snagged yet another first after being elected Wisconsin's secretary of state in 1978.
Phillips's work as a trailblazer lasted long after her days in the capital. Her work included starting her own foundation to provide scholarships to underrepresented students and mentoring politicians. Phillips died on April 17, 2018, at the age of 95. Milwaukee honors her inspiring legacy through "Vel R Phillips Ave."
[Sources: Wisconsin—Our State, Our Story ; On Milwaukee; Wisconsin Historical Society ]