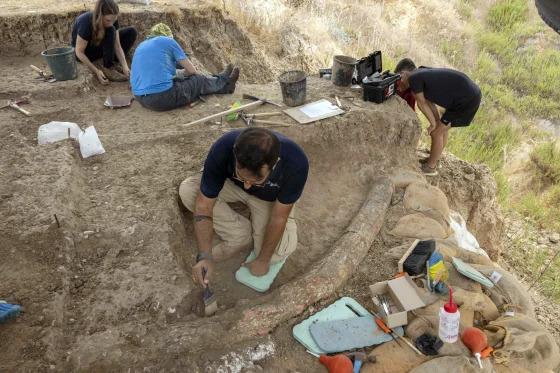 2.5-Yard Elephant Tusk Fossil Discovered in Israel
Researchers in Israel recently found a 2.5-yard-long fossil that belonged to a long-extinct straight-tusked elephant. It is believed to be the largest fossil ever found at a prehistoric site in the country.
This amazing fossil was discovered near a piece of land called a kibbutz on the central plain running parallel to the Israel's Mediterranean coast. The discovery was made by researchers from Israel Antiquites Authority (IAA) in a joint excavation from Tel Aviv University and Ben-Gurion University. Avi Levy, lead researcher of the find, called this fossil, "The largest complete fossil tusk ever found at a prehistoric site in Israel or the Near East." This site is at least 500,000 years old based on the stone tools recovered from the area, the antiquites authorities said.
"Very puzzling, very enigmatic," said Omry Barzilai, an IAA archaeologist also in the discovery, because it was not known whether ancient people hunted the behemoth on the spot or they brought the animal's tusk to this spot.
Since there is more to discover, scientists from around the world are participating in this project with Tel Aviv University's researchers. With this discovery, we can learn more about early humans, how they lived and how they hunted.
[Source: CBS News; Madison.com]