Locks and Dams on the Mississippi River Need Fixing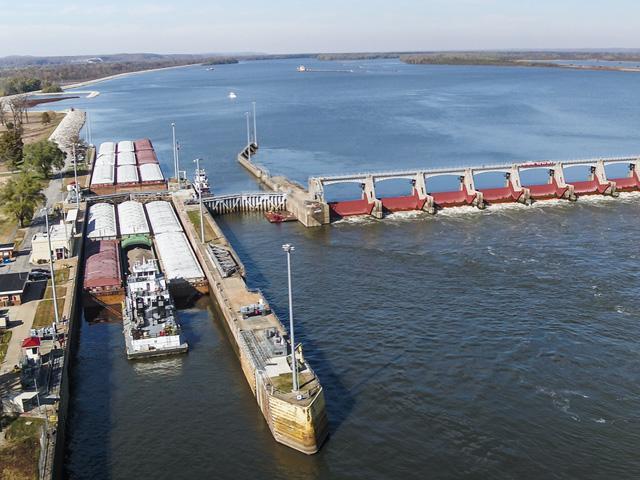 The Mississippi River is a lifeline for the American economy and global food supply, with around 175 million tons of freight transported on its waters every year. However, the century-old locks and dams that guide the barges along the river are well past their expected lifespan. Uncertainties about who should pay for maintenance and repairs only add to the resulting slower transit times and fears of a major breakdown in the future.
The upper Mississippi River has been a challenge to navigate for decades. Shallow waters often made it possible for people to walk across, hindering commercial traffic. To address this, a project was approved by Congress in 1930 to create a system of 29 locks and dams, stretching from Minneapolis to Granite City, Illinois. Water locks are navigational structures that regulate water levels in a river or canal to allow boats and barges to move between different water levels. These locks allow the Army Corps of Engineers to control the water levels in different sections, ensuring a minimum depth of nine feet for barges to pass through.
Today, towboats on the river push an average of 15 barges at once. However, when they reach the 600-foot-long locks, they simply don't fit, and splitting up the barges takes twice as long. Mike Steenhoek, the executive director of the Soy Transportation Coalition, describes the system as a garden hose connected to a fire hydrant. With farmers producing more corn and soybeans than ever before, delays have only worsened.
A report from 2019 revealed that over half of the boats and barges on the Mississippi River experienced delays at locks and dams, compared to only one in five in 2000. The average delay time has also increased from 90 minutes to about 122 minutes in the same timeframe, making delays on the Mississippi some of the longest in the country.
Unfortunately, it's farmers who suffer the most as shipping companies lower the prices they're willing to pay due to increased fuel costs caused by these delays. The majority of the industry agrees that the locks and dams urgently need maintenance, with an estimated backlog of repairs amounting to a billion dollars. However, determining who should pay for these repairs and what exactly needs to be done is a complex issue. Kristin Moe, the navigation business line manager for the U.S. Army Corps of Engineers' St. Paul District, acknowledges there are ongoing repairs but emphasizes that "...at some point, we're going to need some major rehabilitation of these structures."
Maintaining and upgrading the Mississippi River infrastructure is not just an immediate necessity but also a crucial investment for the future. As Steenhoek puts it, "Is it a matter of if you have a failure… or when you have a failure?"
[Sources: Milwaukee Journal Sentinel; Madison.com; Minneapolis Star Tribune]