Mars: Planet of Mystery and Discovery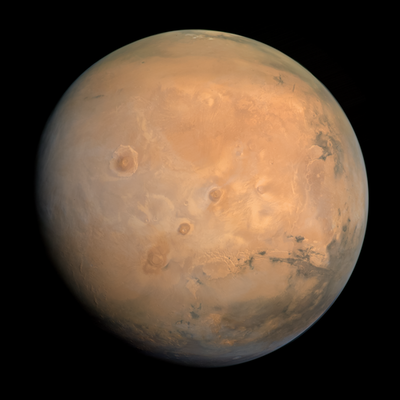 Mars was named after an ancient Roman god of war. The rocks and soil on the surface of the planet are usually a type of rusty chestnut color, making Mars known as the red planet.
The surface of Mars is flat, empty, and rocky, containing many canyons. Mars even has the the largest volcano in the solar system. Mars moves around the Sun in an oval orbit, it can go from 128 to 155 million miles away from the Sun.
Earth and Mars have some similarities and differences. Like Earth, Mars has three main layers: the crust, mantle and core. Time on Mars is different than Earth; a year on Mars is 687 days while a year on Earth is 365 days. Earth has only one moon while the red planet has two moons. Scientists think about the size, mass, rotation rate, and overall activity of Mars but do not know exactly what Mars looks like under the surface, although they've made models of the interior. Similar to Earth, Mars has an atmosphere, however, the gas on Mars is not particularly thick.
Overall, Mars is a planet that continues to be studied and learning about its features can give insight into the existence of life outside of planet Earth.
[Source: Britannica Space]