Dane County Continues to "Suck the Muck" from Yahara River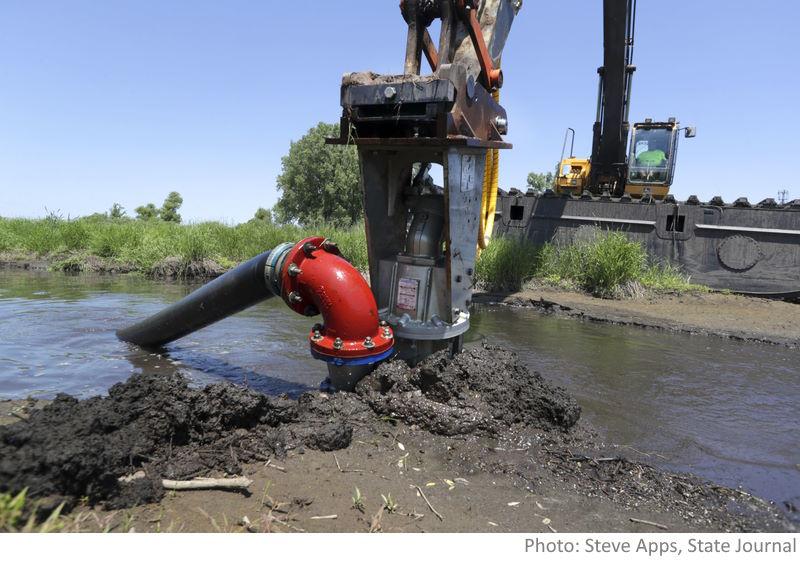 Dane County is continuing its sediment removal efforts in and around the Yahara River. County Executive Joe Parisi and staff from the County's Land & Water Resources Department recently highlighted this year's projects during an announcement at Babcock County Park.
It's all part of a five-phase plan called the Yahara Chain of Lakes Sediment Removal Project. The Yahara river is located in Southern Wisconsin, mostly in Dane County. It flows through and connects Lakes Mendota, Monona, Waubesa, and Kegnosa. These lakes are central to life in Madison and Dane County, both for wildlife species and for people.
The Yahara River drains an area of about 536 square miles before entering the Rock River and flowing toward the Mississippi. The Yahara has a lot to do with the health of Madison's lakes.
The movement of water downstream and through the lakes can be slower and less efficient if there is too much sediment. Currently, water comes into the Yahara Chain of Lakes faster than it goes out. In fact, it can take two inches of rain over two weeks to leave the Yahara Lakes system.
"With the unpredictability of climate change rains, it is important for the Dane County community to take a proactive approach and remain resilient," said County Executive Joe Parisi. "Through our Yahara Chain of Lakes Sediment Removal Project, we're working to help mitigate future flooding risks by increasing the flow of water through the lakes and improving the management of lake levels during high water periods. We're excited to continue this work in 2023."
Sediment movement is a naturally occurring process. But accumulation of sediment in the local rivers and lakes is increased by human activity, including urban development. It is estimated that over 8.5 million pounds of sediment enter the Yahara River and Lakes each year from urban runoff.
This year, crews will work at two separate locations. Goals include improved water flow, improved habitat for fish and wildlife, and better flood protection. The two areas scheduled for work in 2023 are Lake Waubesa to Lower Mud Lake and Lake Kegonsa to Highway B.
So far, Dane County has removed about 33,000 cubic yards of sediment. The County's 2023 annual capital budget allocated $3 million for the Yahara Chain of Lakes Sediment Removal Project.
[Sources: Stoughton Courier Hub; Madison.com; countyofdane.com]