Himalayan Glaciers Face up to 80% Ice Loss by 2100 Amid Rising Temperatures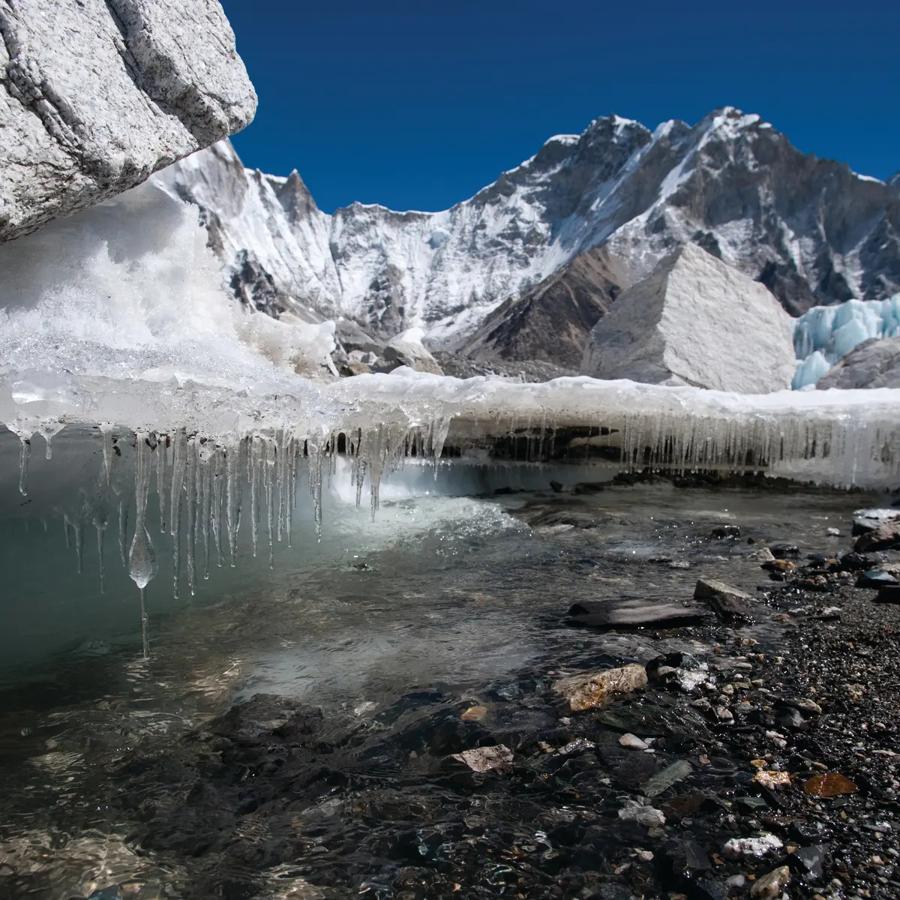 Scientists believe that nearly a quarter of the world's population could face severe natural disasters by 2100 due to the alarming rate at which the Himalayan glaciers are melting. The International Centre for Integrated Mountain Development (ICIMOD), based in Nepal, has warned that the glaciers could lose up to 80% of their volume if worldwide temperatures increase by 3 degrees Celsius or more.
ICIMOD, which aims to preserve life and biodiversity in mountain and downstream populations, has reported that one-third of the glaciers from Afghanistan to Myanmar could disappear even in the best-case scenario. However, over the years, the calculations have changed. If worldwide temperatures rise between 1.5 to 2 degrees Celsius, less than half of the volume will be lost by 2100. Moreover, these temperatures could also exacerbate global droughts, wildfires, extreme floods, and food shortages. Professor Saleemul Huq, director of the International Centre for Climate Change and Development, has stated, "In all three pillars of climate action - mitigation, adaptation, and loss and damage - we are at a standstill or going the wrong way, while the consequences of inaction are accelerating by the day."
Further research suggests that nearly 2 million square miles surrounding the highest mountain chain already show dramatic impacts. Due to the isolated location of Himalayan communities, immediate disaster response is challenging. Glacial water benefits crops and medicinal plants in nearby farmlands, but rapid melting will overwhelm them. The risk of constant floods, landslides, and avalanches soars, followed by a series of drought phases as the water dries up. Stretching from tropical rainforests to cold deserts in Asia, numerous rare species are in danger due to the region's shifting conditions. In particular, about 14 butterfly species are extinct in the Murree Hills of Pakistan, and other animals face breeding and developmental issues.
The Himalayan communities are home to 2 billion people, including cultures established centuries ago. Most depend on agriculture, livestock, and tourism for income, and all of these are affected by even minor climatic changes in the area, according to Amina Maharjan, a livelihood and migration specialist at ICIMOD. Furthermore, animal deaths, food scarcity, and income loss have increased over the last five years due to the same reasons. Snowfall is irregular with the seasons, causing greenery to shrink and diminishing the chances of growing food and grazing land for livestock. The countries most affected are India, Bhutan, and Nepal.
The aftermath of losing the glaciers will be disastrous for people and ecosystems that have been here for a long time. To help mitigate the effects of the warming rate, ICIMOD promotes local climate policies to evaluate the safety of farming and reinforces ecosystem services.
[Source: CNN, ICIMOD]