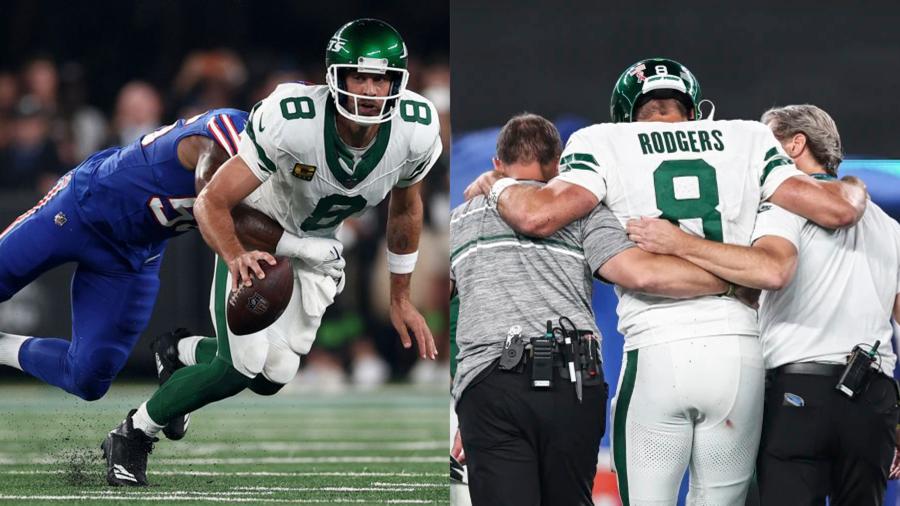 Aaron Rodgers Injured, Zach Wilson Takes Over as Jets Quarterback
In a tragic event for Jets fans, Aaron Rodgers was injured and carried out of the stadium during the team's first regular-season game on Sept. 11. Now, he will be replaced by 2021 number two overall pick, Zach Wilson. Wilson will be the new QB1, with a 14-21 record, averaging only 168 yards per game in the 2022 season. To compare his average passing yards, Kansas City Chiefs QB Patrick Mahomes almost doubled that in last year's season with 303 passing yards per game. When signing Rodgers, the Jets had a 60% chance of reaching the playoffs, according to SportsLine. Now with Wilson, the Jets only have a staggering 0.2 % chance of making the playoffs.
The injury occurred on the fourth play of the game. The Jets were attempting a drive and pass rusher Leonard Floyd got through the offensive line and sacked Rodgers. Once Rodgers got up, he stood for a moment before going back to the ground and holding his leg in pain. After Rodgers was carried out by medics, Wilson had to step in to replace him. Wilson ended up taking the Jets to victory against the Buffalo Bills 22-16. He threw for more than 50% while completing 14 for 21 on passing, ending the night with 140 passing yards.
After the game, there was a press conference where Jets coach, Robert Saleh, said that Rodgers' injury did not look good and that they were putting their faith in Wilson. The following morning Rodgers got X-rays and it was ruled that he had torn his left ACL and would not be able to return until the 2024-25 season.
Even though the Jets have Wilson, they are trying to replace him. After signing Rodgers for $75 million, the Jets only have $9.8 million to sign a new quarterback. With that money, they can sign a free agent. Although there were rumors of Colin Kaepernick coming to the Jets, they revealed that they will not be signing him and are looking for someone who can mentor Wilson, as well as lead the Jets to the playoffs. Wilson may have the ability to take them to the playoffs, but those chances are very slim. The Jets need a new quarterback fast if they want to have a possibility of making it this year.
[Sources: Sport Illustrated; NFL; NBC Sports Chicago; CBS Sports; ESPN]