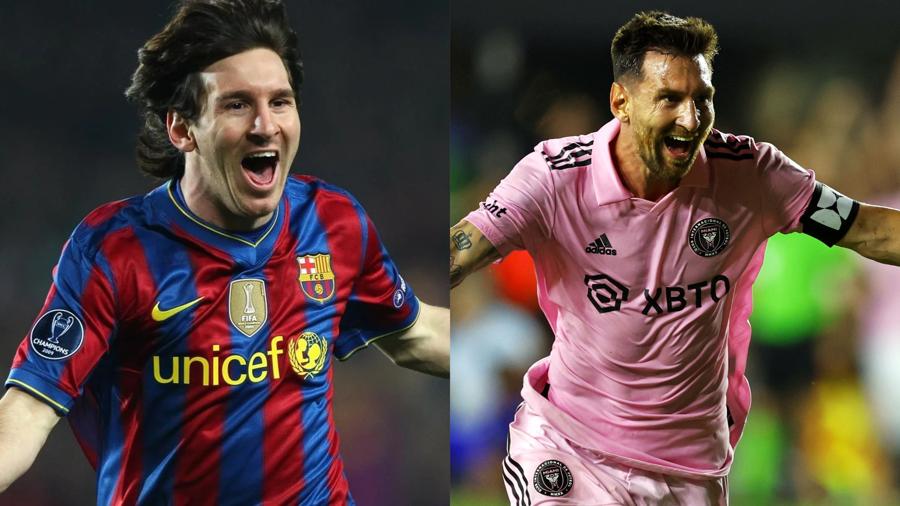 Lionel Messi's Journey to Inter Miami: A Decision Beyond Soccer
One of the greatest soccer players in the world, Lionel Messi, has signed a deal with Major League Soccer club Inter Miami.
By going to Inter Miami, Messi decided to leave his previous club, Paris Saint-Germain. His exit was confirmed by PSG hours before their last game in June, during which Messi lost his final match with the club. After the match, he sent a message to the club saying, "I wish you all the best for the future." PSG thanked Messi for his service to the group, but fans felt otherwise. They booed his name relentlessly in warm-ups, during the game, and continued to show their frustration during a celebration for the club's recent French championship victory. Messi went on to state that PSG did not give him the happiness he once had when he played with the Barcelona team, where he won many championships.
When looking to sign a new deal, Messi received many offers from different teams. One of the teams that reached out was his first professional team, Barcelona, which is where he made his debut at the age of 17. He left the team in 2021 for PSG, after Barcelona was financially unable to sign him under a new contract, due to the Spanish League rules. Initially, Messi seemed eager to return to Barcelona, and he even discussed the idea with the club's manager, Xavi Hernandez, and president, Joan Laporta. However, the club's continued financial crisis caused him to not sign a deal with Barcelona. He did not want to be responsible for the team having to eliminate current players or lower the team members' salaries to accommodate him.
Saudi Arabia also wanted to sign Messi and even offered him millions of dollars to move to Saudi Arabia. The deal was rumored to be approximately 500 million dollars. He also already had a relationship with them, through their multimillion-dollar deal to have Messi as a spokesman for the Saudi Tourism Authority. "If it had been a question of money, I would have gone to Arabia or somewhere," Messi stated. His ultimate decision was made based on reasons besides financial gain. In the end, he chose Inter Miami.
There were many reasons why Messi chose Inter Miami instead of other clubs, one of them being family. "There were two years when I wasn't happy. I didn't enjoy myself and that affected my family life. I missed a lot of my kids' school lives. In Barcelona I used to pick them up, here I did it a lot less. I did a lot less with them. That was part of the decision as well, to find myself with my family, with my sons, and to enjoy the day-to-day. I've had the luck of achieving everything in soccer and now things go a little further than sport, which I'm still interested in a lot, but even more the family aspect," he said. Messi made it very clear that he had not been the happiest and wanted to just spend more time with his family. This may have become clear to him after he won the FIFA World Cup last year in Qatar, after which he decided to put himself and his family first. "I had that month which was spectacular for me because I won the World Cup, but apart from that it was a difficult period for me," Messi shared. Miami also offered comfort, since he already owns a home there and can easily find new sponsorship opportunities in the commercial market. Having his new team located in the U.S. also appealed to him for competitive reasons, since it could potentially make it easier for him to defend his World Cup title in 2026 since the games will be held in the U.S., Mexico, and Canada.
Signing with Inter Miami offers many benefits to Messi's career and future. Miami's owners, along with Messi's representatives, created an offer that not only opened a roster spot free from MLS salary rules but also included an ownership stake in Inter Miami once his playing career ended. This includes revenue-sharing agreements with Apple and Adidas. Due to Messi's previous lifetime sponsorship deal with Adidas, their sales are expected to increase following his team switch. This can also lead to an increase in subscription sales for the Apple TV+ streaming service since they have already announced an upcoming documentary series about Messi.
Inter Miami itself may become one of the most popular brands in America now that Messi has joined. The last time Messi joined a new team – PSG in 2021 – the club generated 700 million euros during his first year. Also during his time at PSG, the club gained multiple sponsorships and 5.6 million followers the week after Messi joined and 15 million followers across their social media platforms. Joining Inter Miami may not just benefit Messi, but the entire club altogether, along with MLS.
Many people dislike Messi's transfer to Inter Miami, but joining the team seems best for Messi in the long term. Both Inter Miami and MLS offered many benefits that attracted Messi at this point in his career since it will not be much longer before he retires. This decision will also benefit his family since he is now in a position to spend more time with them while still being able to play soccer. As Messi's first time joining a team in the United States, this agreement has changed the landscape of the soccer industry worldwide.
[Source: New York Times]