It's Stormwater Week in Wisconsin! Have You Seen one of these Murals in Your Neighborhood?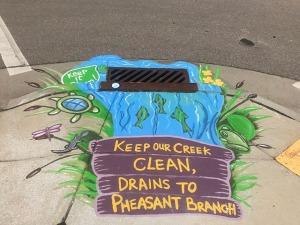 It's Stormwater Week in Wisconsin. Did you know that when rainwater runs off the land and enters a storm drain, it often empties into a nearby body of water and remains untreated?
This poses a problem because increased urbanization in Dane County is creating more runoff. Many surfaces in urban areas are either impervious or absorb very little water, like roads and traditional lawns. Stormwater Week is dedicated to raising awareness about stormwater, and these dangers.
Before heavy development, natural land absorbed 80-100% of rainwater. Currently, in urbanized areas, anywhere from 40-100% of water does not get absorbed. All of the leftover water flows over the land to the nearest drain, picking up pollutants and sediment along the way. Since the stormwater drains to local lakes and streams, so do the contaminants. Nutrients in the runoff, like phosphorus, can cause massive algae blooms that wreak havoc on our natural bodies of water.
Stormwater Week aims to bring awareness to this issue and motivate residents to take action to reduce pollution to our lakes and streams.
There are several things you can do as a Dane County resident to help care for our lakes and streams. Leaves are one of the dangers, especially as we head into the Fall season. Leaves contain phosphorous, and when that washes down the storm drains it ends up in our lakes. In fact, up to 50% of the excess phosphorous from storm water runoff is from this 'leaf tea.' You can help by keeping your lawns clear of leaves, and with the help of a responsible adult, carefully and safely remove leaves from street gutters before it rains.
If you are a homeowner, there are some easy steps you can take to reduce rain water runoff from your property. One thing you can do is install a rain barrel, which captures rainwater before it can flow down the drain. You can then use the rainwater from the barrel to water your lawn and garden in an eco-friendly way. You can also plant a rain garden. A rain garden is a shallow depression, that is usually filled with native plants and grasses. They are more effective then a plain lawn at absorbing snow and rain water, and as a bonus, provide a much-needed habitat for bees and other pollinator species.
If you are walking around Madison, keep your eyes open for a storm drain mural. These colorful works of public art are there to educate Dane County residents on what happens to water after it goes down the storm drain.
The storm drain mural project started several years ago, when students from various schools first learned about stormwater runoff and prevention, then submitted drawings and mottos for storm drain murals. The designs were collected by local artists and transformed into murals painted on drains around Dane County. The murals include information on the name of the waterbody the storm water drains to, along with a website where residents can learn about simple actions they can take to keep our waters clean.
Visit www.ripple-effects.com to learn more about Stormwater Week and learn more about the simple actions you can take to protect our waters!