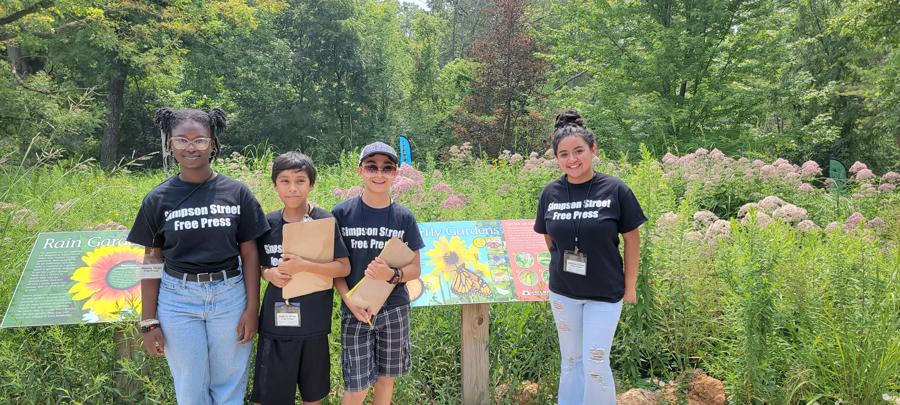 Follow a Simpson Street Road Trip to Wisconsin's Driftless Area
A large group of student reporters from Simpson Street recently took a summer road trip to Wisconsin's famous Driftless Area. This is an area of western Wisconsin that was never flattened or even touched by the glaciers. The region is hilly with lots of cold-water streams and beautiful scenery. For us, it was a one-day adventure meant to enhance our understanding of topics we already cover, such as pollinator species and birds of Wisconsin.
We started from our newsroom at South Towne Mall in Madison. In our caravan there were 12 students and four editors.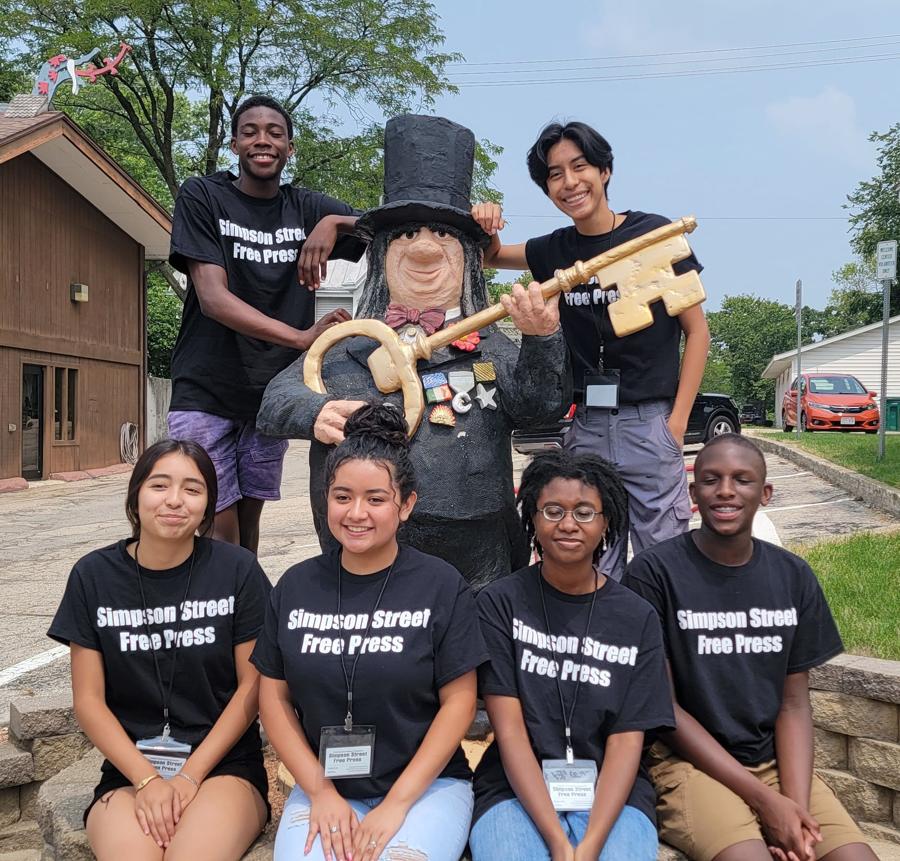 As we drove west through Mt. Horeb, our eyes were quickly drawn to the many trolls and troll-like sculptures that line the main street of this charming Wisconsin community. Always curious about such things, we decided to stop on the way back to take a closer look at Mt. Horeb and its trolls.
Next, we headed further west toward the border of Dane County and Iowa County. We turned south on County Highway F looking for the Mounds View Grassland. We were scheduled to meet with Rich Henderson, a scientist and retired employee of the Wisconsin Department of Natural Resources. Henderson is now a local volunteer and among a group of people who help maintain and protect this important natural area.
Mounds View Grassland is a 570-acre natural area and preserve. The native grasslands and savannas of the Driftless Area can be seen here sprawling across a rolling landscape. A group called The Prairie Enthusiasts owns this property. The organization's mission is to restore and nurture the open prairies and oak savannas that once covered wide areas of the Upper Midwest.
Mr. Henderson was gracious enough to greet us as we pulled into a parking area. We read about Mounds View Grassland prior to the trip, so we had lots of questions. We could tell right away Rich Henderson had lots of answers.
For starters, he gave a quick overview of the fire-dependent ecosystem we were observing. Fire is a crucial part of the natural process for oak savannas and prairies. It's how they rejuvenate themselves. He then answered many of our questions about why pollinators are important and how grasslands help sustain pollinators and birds.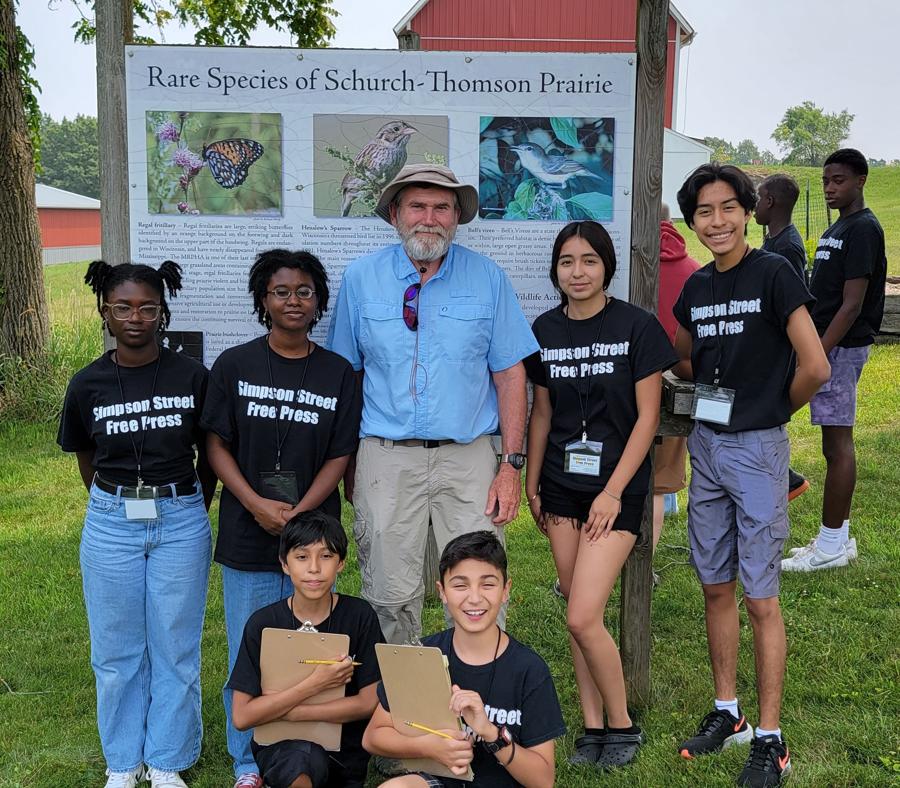 Rich Henderson also explained how the many volunteers with groups like TPE contribute to precious places like Mounds View Grassland. Mr. Henderson explained how native prairies like those at Mounds View Grassland help pollinator species and other wildlife thrive. We also learned about the conservation work going on in this unique place.
Samuel Garduño has covered environmental issues for Simpson Street during the past few years. In an interview, he said "I was excited to see all the wildlife in the area and how our actions can have a huge impact on our native pollinator populations, whose work is crucial to our everyday lives. We have studied these topics, now it was great to see Mounds View Grassland up close and personal".
We made several other stops during our field trip, including at the Cave of the Mounds where we were greeted by a staff member who provided us with information about caves in the Driftless Area. Staff there gave us a press kit containing lots of useful information. Our student reporters plan more Driftless field trips this August and September and will explore the Cave of the Mounds again.
As we traveled back through Mt. Horeb, we took the opportunity to take photos with the very friendly trolls that line the streets here. We also enjoyed a late afternoon meal at Mt. Horeb's Aztalan Mexican Grill. The food was delicious, and we had plenty of time to reflect and talk about the day's experiences.
This was a great opportunity to see firsthand how our actions can support our local environment and natural resources. We're thrilled about our Driftless Area project and looking forward to more field trips. We're anxious for our next adventure!