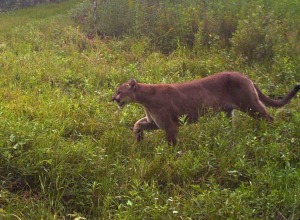 Throughout recent years, cougar sightings in Wisconsin have occurred in over 17 different locations, suggesting that the feline is returning to Wisconsin's landscape after more than a century gone.
In Brookfield, Wisconsin, a 50-pound cougar was spotted at the residence of Dan and Bridget Guerndt, where it was caught on surveillance peeking through a window; similarly, in Colgate, Washington County, a cougar was filmed roaming outside a home. Following these incidents, another resident spotted a cougar sitting under her pine tree, prompting her to contact local officials, where Agents of the Wisconsin Department of Natural Resources (DNR) later confirmed the cougar sightings and agreed to handle the situation immediately. However, by the time the DNR intervened, the cougar, which was identified to be a wandering one-and-a-half-year-old male, had disappeared.
From studies by the DNR, male cougars are shown to disperse farther than females, partly explaining why more male cougars have appeared in the Wisconsin area recently. Over the past six months, cougar appearances have drastically increased with at least two cougar sightings per year since 2008 in 17 different locations. Wildlife biologists predict that at least two cougars are currently roaming Wisconsin, perhaps more.
Scott Walter, large carnivore specialist for the DNR, says although cougar sightings in populated communities are uncommon and their likelihood to attack humans is low, people should still stay cautious and call officials if there are sightings. As of now, there is no evidence of a breeding cougar population in Wisconsin, but genetic analysis suggests that these cougars connect to those of the Black Hills region in South Dakota. According to DNR Assistant Large Carnivore Specialist Jane Wiedenhoeft, the cougars' presence is due to a growing population in the Dakotas, which is forcing many to migrate eastward.
Despite this, their presence has not caused immediate threats to public safety and there have been no reports of negative encounters with livestock in the area. For now, continued research will be done to study the habits and moving patterns of cougars.
[Sources: USA Today Network ; wbay.com ]