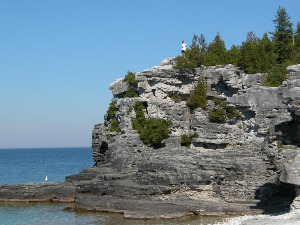 Conservationists Struggle to Balance
Great Lakes' Food Chain
by Virginia Quach, age 17
In past decades, the variety of both native and non-native species in Lake Michigan has changed and complicated its waters. Recently, the presence of mussels has created clearer lake water. Though seeming advantageous, it has harmed the Great Lakes environment and the people using it.
The history of Lake Michigan is a cycle of invasion and a resulting struggle to maintain its food web. In the 1940's, Lake Michigan first encountered problems with invasive sea lampreys. These eel-like creatures attach to large predatory fish and slowly drain their blood. Due to the sea lamprey's presence, indigenous fish populations like lake trout have drastically declined. [read more]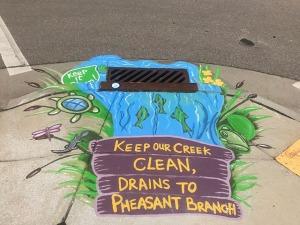 Art Murals Educate on the Dangers of Rainwater Runoff
by Felicia Zheng, age 14; Josepha Da Costa, age 13
When rainwater runs off the land and enters a storm drain, it often empties into a nearby body of water and remains untreated. This poses a problem because increased urbanization in Dane County is creating more runoff. Many surfaces in urban areas are either impervious or absorb very little water, like roads and traditional lawns.
Before heavy development, natural land absorbed 80-100% of rainwater. Currently, in urbanized areas, anywhere from 40-100% of water does not get absorbed. All of the leftover water flows over the land to the nearest drain, picking up pollutants and sediment along the way. Since the stormwater drains to local lakes and streams, so do the contaminants. Nutrients in the runoff, like phosphorus, can cause massive algae blooms that wreak havoc on our natural bodies of water. [read more]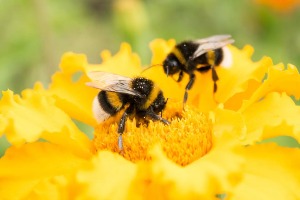 Planting Gardens to Help Native Bee Populations Recover
by Sarah Thomson, age 13
Native bee populations are declining. They are being threatened by urbanization and new farming techniques which can both poison the bees and harm their food source. Yet, there are ways that communities and individuals can help the bees.
We are harming our native bees. Because of urbanization – the transition from rural to less plant-friendly urban areas – they have less access to their food, nectar. As farmers plant wide expanses of the same crop, there is less plant variety available to bees. Some native bees only use select plants as food, so single-crop farming can leave them hungry. Another problem is the pesticides that farmers use to protect their crops which can harm the bees. All of these pieces add up to the bigger picture: bees need our help. [read more]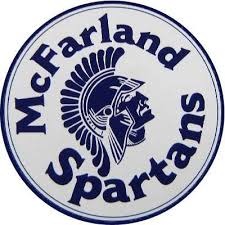 Take Action Against Climate Change
by Ella Ceelen, Spartan Spotlight, McFarland High School
"If we don't act now, it will be too late."
Threats like this have been circling the news and internet for years now concerning the imminent danger climate change poses to our planet. On October 8th, CNN declared that the "planet has only until 2030 to stem catastrophic climate change." Each new ultimatum becomes more and more drastic--the action needed for change a steadily more ambitious task. [read more]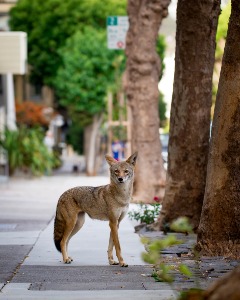 Foes to Friends: Madison's Coyotes and Foxes Finally Make Peace
by Christy Zheng, age 15
A team of UW-Madison researchers tailing coyotes and foxes in the City of Madison has made a surprising discovery—the two rival canids have made amends.
Currently, researchers are trapping and collaring coyotes and foxes to find out what caused the unlikely truce. They are also studying the behavior of these animals, using the data to inform Madison residents of ways to safely handle canid encounters and successfully manage pests. [read more]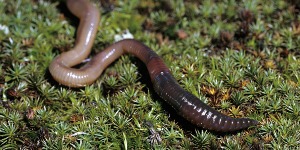 Invasive Worms Jump, Thrash, and Destroy Wisconsin's Forest Floors
by MariElena Palmer, age 14
Crazy worms are taking over our forest floors, and we've got to do something about them.
Amynthas agrestis, or crazy worms, are an invasive species of earthworm that was found in Wisconsin in 2013. These worms are also known as Alabama Jumpers, snake worms, or jumping worms. But no matter what you call them, these worms have a negative effect on our forests. [read more]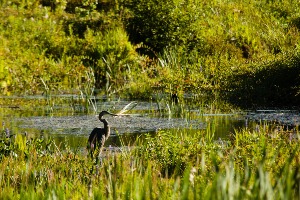 Wetlands, Wisconsin's Natural Treasures, Are Being Destroyed
by Leilani McNeal, age 13
Wetlands are a major factor in Wisconsin's ecology; but we are causing wetland loss at alarming rates. It has taken the state thousands of years to form approximately ten million acres of wetlands, but it has taken less than 200 years for humans to ruin these vital landforms.
What is a wetland? Wetlands are diverse in size, plants and animals but they all share three characteristics: water, special soil dependent on wet conditions, and plants adapted to wet soil. These features help to not only improve the quality of life, but they also provide great benefits to our community. For example, wetland habitats support 75 percent of wildlife at some point during their life-cycles. One of the most important functions of wetlands is the protection they give. [read more]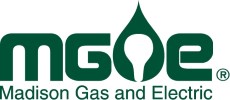 Proud to Support Academic Achievement in Wisconsin