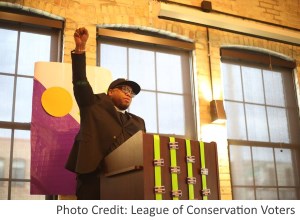 Recently, Simpson Street Free Press staff and students had the remarkable opportunity to meet and talk with Hip Hop Caucus CEO Reverend Lennox Yearwood at the Wisconsin League of Conservation Voters' 15th anniversary celebration.
At the event, Executive Director of the Wisconsin League of Conservation Voters (WLCV) Kerry Schumann awarded Free Press teen editors a prestigious 2017 "Conservation in Action" award for their ongoing coverage of environmental issues.
According to their website, the WLCV is "dedicated to electing conservation leaders, holding decision makers accountable, and encouraging lawmakers to champion conservation policies that effectively protect Wisconsin's natural resources and public health." SSFP is a long-time friend and supporter of the WLCV, and we applaud their outstanding work in the community.
Also at their anniversary celebration, "Revvin' it up with Rev. Yearwood" at the Goodman Community Center, SSFP students enjoyed VIP access to a pre-event interview with the Reverend himself.
From the moment Rev. Yearwood arrived at the event in his clerical collar and baseball hat printed with the message "science not silence," his charisma, wisdom, and passion became apparent to everyone in the room. He told engaging stories, asked curious questions, and made sure that every guest felt comfortable and inspired. It was easy to tell that Rev. Yearwood is a powerful community organizer.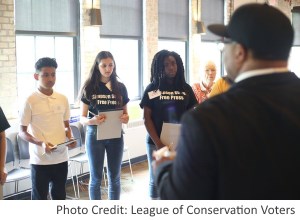 Though he originally studied divinity in school, Rev. Yearwood eventually decided not to pursue a career in the church due to disagreements over its policies. Instead, he became an air force officer. The Reverend's military career ended, however, when he became an outspoken advocate against the Iraq war. And in 2004, he united his passion for speaking and organizing when he founded the Hip Hop Caucus. From then until now, the Caucus has used Hip Hop to unite diverse groups over and inform them about environmental and social issues.
When I asked Rev. Yearwood to describe his organization, he said, "our name is Hip Hop Caucus. 'Hip' meaning to inform, 'Hop' meaning to move, and 'Caucus' meaning to do it together: the fundamental way we choose to work…we engage people toward activism and issues that affect our community."
Prompted by questions from attendees at the WLCV celebration—which boasted an audience of nearly 100 people—Rev. Yearwood then delved deeper into his motivations and philosophy. He discussed the intersection of environmental and racial issues. Specifically, he stated he believes that because climate change, lead-in-water, and pollution all disproportionately affect African-Americans, addressing these issues is a necessary component of the Black Lives Matter platform.
He articulated this entire concept in one eloquent sentence: "it's one thing to fight to drink at the same water fountain, it's another to be able to drink the water at all," the Reverend said.
Rev. Yearwood went on to describe his philosophy on uniting people. Calling climate change a "post-partisan" issue, he believes that it is important to bring diverse groups of people together.
"We won't win anything with segregated silos in the movement," he said.
Finally, the Reverend spoke directly to SSFP writers.
He told us, "one who controls the media, controls to masses." He encouraged us to continue to write, learn, and advocate for others.
I think I speak for all SSFP students in attendance when I say that I left the event feeling both inspired and empowered. From all of us at the Free Press, thank you to the Wisconsin League of Conservation Voters for recognizing our work and for the wonderful opportunity to connect with such a powerful public figure. Meeting Reverend Yearwood was an incredible experience—one that we won't soon forget.
[Sources: hiphopcaucus.org ; conservationvoters.org ]