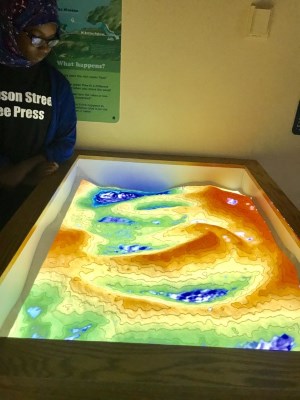 Henry Vilas Zoo Partners With Dane County to Open Augmented Reality Sandbox
by Kadjata Bah, age 12
Recently, a sandbox was installed at the Henry Vilas Zoo. But it's not just any sandbox. It is an Augmented Reality (AR) sandbox that simulates topographic features and water systems to teach people about watersheds. The Dane County Land and Water Resources Department and the Henry Vilas Zoo partnered to construct this educational model for all ages to view.
A watershed is a piece of land that drains precipitation into a body of water. The exhibit at Vilas will help residents of Madison to understand how watersheds work and where water goes when it runs off their yards and driveways. In urban areas, this water runs off into storm drains that empty directly into local lakes and streams, carrying with it any nutrients or pollutants it picks up along the way. [Read More]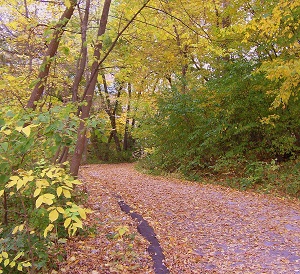 A Conversation With Seth Ebel: Idealist and Engineer
by Kadjata Bah & Sylvan Bachhuber, age 12 & 17
Last Tuesday, we sat down with Seth Ebel, a thirty-something civil engineer at the Dane County Land and Water Resources Department. He has the air of a pragmatic idealist: passionate and motivated, yet down-to-earth and committed.
Born and raised nearby in Jefferson, Wisconsin, Ebel spent his childhood exploring the Wisconsin wilderness. An avid football player, he received a scholarship to play for Michigan Technological University where he graduated with a degree in civil engineering. In his free time he loves hunting, fishing, and spending time with his wife and three kids. [Read More]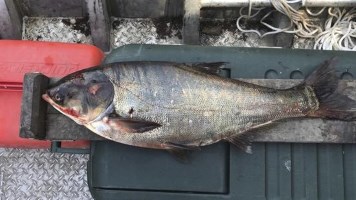 Invasive Asian Carp Threaten the Great Lakes
by Cynthia Avila
Over the years, invasive species have made a home in the Mississippi River. But it seems that the Asian carp has yet again found its way into a Chicago waterway that is nine miles from Lake Michigan. It was caught below T.J. O'Brien Lock and Dam by a commercial fisherman working with the Illinois Department of Natural Resources. This is not the first time an Asian carp has snuck through the three electrical barriers, which are located in the Chicago Sanitary and Ship Canal. In 2010, a bighead carp was caught in Lake Calumet.
The electric barrier system, which is run by the U.S. Army Corps of Engineers, was designed to prevent invasive species, such as the Asian Carp, from entering and reaching the Great Lakes. The silver carp, which is one of the four types of Asian carp, weighed around eight pounds and measured 28 inches long. The silver carp was sent to Southern Illinois University where biologists will determine its origin. [Read More]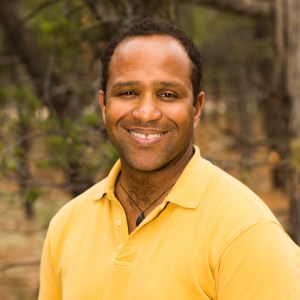 Local Journalist James Mills Shares His Perspective on Water in Dane County
by Sylvan Bachhuber, age 17
James Mills arrived at the Dane County Land and Water Resources Department office with a jump in his step. He was wearing a bright colored button-down and a small shell around his neck, both which complimented his cheerful, easy-going demeanor.
Mills is a freelance journalist and media producer based in Madison. He writes about environmental conservation and diversity in public land management. He recently published The Adventure Gap, a book that chronicles the first all African-American ascent of Denali. He also founded the Joy Trip Project, which is a news-gathering and reporting organization that focuses on outdoor recreation and environmental conservation. The Joy Trip Project publishes online content and a podcast on sustainable living. [Read More]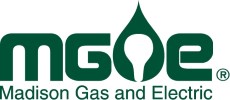 Proud to Support Academic Achievement in Wisconsin