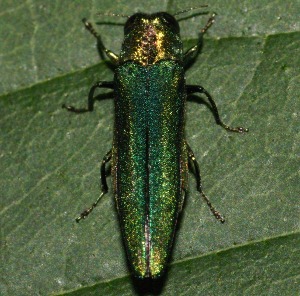 The emerald ash borer is a non-native invasive beetle from East Asia. It is infamously known for invading the precious ash trees in North America, particularly in Michigan and Wisconsin. It destroys the trees by disrupting the flow of nutrients below the bark.
The insect was first discovered in North America in 2002 in an area near Detroit, Michigan, as a result of statewide devastation. Bill McNee recently visited Michigan and stated that "the region is rebounding as replacement trees take hold." McNee is a forest health specialist with the DNR in Oshkosh and has, over the past decade, thoroughly inspected the insects in the two states.
The insects were first spotted in Wisconsin in 2008 near the Milwaukee River on the Ozaukee and Washington county lines. The insects are mainly found in Southern Wisconsin. "They were designed to handle the temperatures we have in Southern Wisconsin," McNee stated.
Wisconsin, among other surrounding states, faced a three-day polar vortex in early January. Temperatures dipped below 20 degrees Fahrenheit, forcing many people to stay home. As unfortunate and dangerous this event was, the DNR believed that the ash borers would eventually die out; however, they survived the extreme cold beneath the warm ash bark. "'It shows how tough they are," McNee emphasized. In order for cold weather to effectively kill the insects, the temperature would have to be below 20 degrees for several days.
Finding a solution to this crisis seems nearly impossible. Programs such as the UW Extension claims that insecticides may be effective but not fully dependable on the killing off the ash borers.
The good news is that ash trees are not completely endangered as McNee points out that the infected trees will continue to sprout in heavily infested areas; meaning not all trees will survive, but some will.
[Sources: Milwaukee Journal Sentinel ; USA TODAY NETWORK - WISCONSIN ]