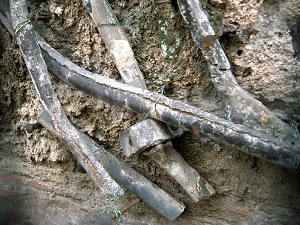 Milwaukee residents are concerned that lead may be poisoning their water. According to a 2014 report, over eight percent of children tested in the city had blood levels at or above the level indicating lead poisoning. This figure is significantly higher than it is for individuals in Flint, Michigan. An increasing number of Milwaukee citizens are concerned that not enough has been done to address this issue.
Lead leaches into drinking water when service pipes containing lead corrode. Corroding is the dissolving of metal due to a chemical reaction that often occurs when water is too acidic or lacks certain minerals. The temperature of the water, the amount of initial wear on the pipes, and the presence of protective coatings inside plumbing materials can also impact the amount of lead that enters drinking water. Experts report that Milwaukee is home to over 70,000 lead service lines that could be corroding for any one of these reasons.
One of the most at-risk groups for lead poisoning is young children. If exposed to high levels of lead, youth can develop cognitive, behavioral, and health issues including anemia, slowed growth, and hearing loss. In December of 2016, Milwaukee Public Schools revealed that dangerous levels of lead were found in 183 drinking fountains, some of which were located at early childhood program sites.
Evanny Dorsey, a Milwaukee resident whose daughter Avanny tested positive three times for lead poisoning, said to reporters from the Wisconsin Center for Investigative Journalism, "my baby is not the average 2-year-old, and I've kind of seen her behavior changing."
Dorsey further stated that her daughter has trouble paying attention and speaks less than many children her age do.
Currently, when a child is diagnosed with lead poisoning, state law does not mandate that drinking water be investigated as the possible source. Because of this, Dorsey is still uncertain whether her water is safe.
Milwaukee Mayor Tom Barrett has acknowledged the city's lead-in-water problem, and the city has taken several steps to lower its residents' exposure to the problem. In 2016, the city issued free water filters to low income residents. However, this program has since run out of filters.
According to the city budget office, private property owners and the state's Department of Natural Resources (DNR) plan to spend $6.8 million in 2017 to replace service lines that lead to private schools, daycare centers, and thousands of already-failing or already-leaking residential lines. Related costs would add more than $300,000 to this project. At this rate, however, replacing all lead pipes would take over 100 years.
Additionally, MPS stated that it plans to shut down all in-school drinking fountains that tested at or above 15 parts per billion, which is the federal action level related to lead-in-water.
Critics of the plan believe that Mayor Barrett's actions are not enough. In 2016, the state's Department of Health Services declined to fund a study that planned to investigate the relationship between Milwaukee infants with lead poisoning and lead service lines. And in February of 2016, a proposed bill that sought to require investigation into tap water if a child tested positive for lead poisoning was never brought to vote. Moreover, the Centers for Disease Control and Prevention (CDC) recommended that states lower their lead poisoning action level from 15 parts per billion to 5 parts per billion nearly five years ago, but the Wisconsin Department of Health Services still has yet to make this change.
One of the biggest obstacles to addressing Milwaukee's lead in-water issue is a lack of national support. Federal funding for prevention of childhood lead poisoning has declined sharply since 2012, and allocated state funds haven't been great enough to offset this decrease.
Moreover, activists are concerned that public health agencies are convincing lawmakers and government officials to ignore the dangers of lead in water. Public health agencies with the state's DNR have continuously asserted that government-owned lead pipes do not pose a significant health risk, for example. They have instead directed most of their focus toward lead paint mitigation, which is a multi-billion-dollar industry.
Yanna Lambrindou, scientist, activist, and affiliate Virginia Tech University faculty member, said, "public health experts systemically downplay the risks of lead in water and succeed in convincing lawmakers and government officials alike that this hazard deserves minimal, if any, attention," when interviewed by reporters from the Wisconsin Center for Investigative Journalism.
Division of Public Health spokesperson Julie Lund disagreed with critics of Wisconsin agencies, however.
"While we have made much progress in the detection and prevention of childhood lead poisoning, DHS staff is committed to working aggressively on this issue until the risk of lead poisoning is eliminated for all children," Lund stated.
Through the controversy, one fact is clear: communities in Milwaukee are suffering due to the effects of lead poisoning. A growing number of the city's citizens are concerned about the safety of current and future generations and hope for answers—and solutions—soon.
[Sources: Madison.com ; CDC.gov; wisconsinwatch.org ]