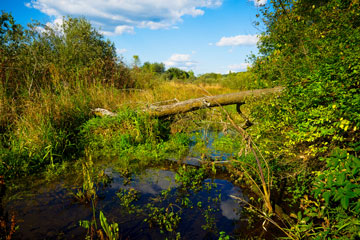 From wetlands to prairies, a diverse range of biomes contributes to the preservation of natural resources and wildlife in Wisconsin. Climate change, prairie loss, and deforestation have reduced some of the state's richest sources of species diversity over the last couple of decades.
But in the midst of these bleak realities, 58 acres of wetland wildlife habitat in Dane County will now be preserved thanks to the efforts of long-time Lodi residents Lydia L O'Brien, Mary J. Thompson, and Marjorie Quam of the Miller family.
The land, called the Lodi Marsh Wildlife Area and State Natural Area, has been a part of the Miller family farm for more than 150 years. It boasts up to 14 species of Papaipema moths and a massive number of birds including the great-blue heron, sand hill crane, common snipe, willow and alder flycatcher, sedge wren, marsh wren, yellow warbler, blue-winged warbler, and red-winged blackbirds.
This property adds to the already-existent, 1,186-acre "conservation landscape" at Lodi Marsh, according to Executive Director of Natural Heritage Land Trust Jim Welsh.
Natural Heritage Land Trust members Gary Werner and Melanie Lord, the Dane County Conservation Fund, the Dane County Chapter of Pheasants Forever, and the Knowles-Nelson Stewardship Program helped fund the project.
Wisconsin's landscape is a crucial part of what makes Wisconsin, Wisconsin. Protecting its wildlife cannot be a one-person job; it will require the hard work and dedication of many.
[Source: Natural Heritage Land Trust Press Release ]