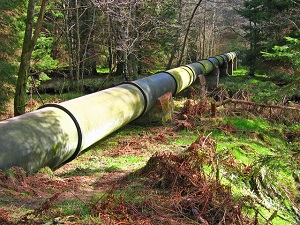 Since the water crisis in Flint, Michigan, the issue of lead-contaminated water and lead pipes has gained renewed attention. Since then, many states, including Wisconsin, have taken action to replace the lead water pipes still in use by schools, homes, businesses and other facilities.
What makes this task difficult is that regulatory agencies, like the Public Service Commission (PSC), do not have a clear record of where lead pipes are located in the state. Utility companies may have a hodgepodge collection of papers and records, but the information has never been collected or analyzed. This is probably because local officials did not have a reason to document piping systems until Congress banned the installation of new lead pipes in 1986—although some cities banned their use even as early as the late 1800's. Today, lead is known to stunt development of the nervous system in young children and infants.
Another issue is the clear-cut division between the sections of pipes owned by water utilities, and sections of pipes owned by private users, like homes and businesses. This separation makes it impossible for the government to use ratepayer money to fix the landowner's end of the line. As a result, the Department of Natural Resources (DNR) funded a pipe replacement program by renting its land out for cell towers and using extra money from an expired Lambeau Field sales tax. These pipe divisions also contribute to the recording problem. The water utilities only have to keep track of their own water lines and the materials they are using for the lines. They send out annual reports to the PSC, but the portions of pipes owned by private landowners are not included in their records or annual reports.
Replacing the water service lines raises even more problems. The most common way lead transfers into water is through the corrosion of lead pipes. If a portion of piping is replaced, it might disturb lead rust, and potentially worsen the water contamination. The replacement copper pipes might also chemically react with the old lead, drawing even more lead into the water.
Wisconsin has a vast number of lead service lines. The city of Sheboygan has about 6,000 customers with lead pipelines, and the state has an estimated 170, 000 lines. The numbers are variable, because the information was pieced together by the Environmental Protection Agency (EPA) from unfinished PSC reports.
The huge number of lead pipelines in Wisconsin is extremely dangerous for all of its citizens. The exact count of these lines is unknown, and the locations, unaccounted for. Although the DNR, the PSC, and the EPA are all attempting to find a solution to the issue, none of these organizations knows exactly what to do to resolve the statewide problem of toxic lead pipelines.
[Source: WisCONTEXT ]