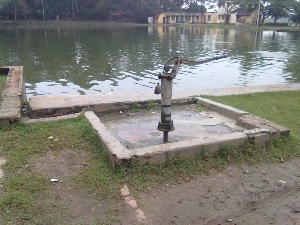 Two chemicals, perfluorooctanoic acid (PFOA) and perflurooctane sulfonate (PFOS), have been found in groundwater near Marinette, Wisconsin. Wisconsin's Department of Natural Resources is currently working on setting new parameters for acceptable levels of these chemicals in drinking water. PFOA and PFOS have been used since the 1950's to make non-stick cookware, carpet cleaner, and stain repellant.
PFOA and PFOS entered the groundwater after a spill when Tyco, a company owned by Milwaukee based Johnson Controls, tested fire prevention products at a site near Marinette. The chemicals are commonly used to produce heat, oil, stain, and water-resistant products. Tyco uses the chemicals to make the foam for its fire extinguishers. Tyco was ordered by the Department of Natural Resources to create a cleanup plan and also to investigate the effects of the chemicals.
These chemicals were also found at the former Badger Army site just north of Madison, where, at one time, the army manufactured rocket propellant. Production waste was disposed of by burning it in open pits. Today, there is ongoing cleanup and testing at the site near Baraboo.
PFOA and PFOS are dangerous and harmful chemicals which remain in groundwater for long periods of time. As well as not breaking down, these chemicals do not stick to anything, which makes them difficult to get rid of once they have entered the groundwater.
While the impact of the chemicals is still being researched, the scientific community agrees that the chemicals are harmful and remain in the body if consumed by humans. Animal testing has shown that PFOA and PFOS can (in some cases) cause cancer and organ damage when ingested in large doses.
Of the wells tested in Marinette, 38 out of 135 had traces of at least one of the chemicals. The concentration of the chemicals in eleven of the wells exceeded the limit set by the Environmental Protection Agency. One well, which was not used for drinking water, had over 27 times the legal limit of these chemicals.
Last fall, Marinette residents received letters from Tyco notifying them that their water may be contaminated. Tyco offered to pay for bottled water for homes whose wells have been tested. The company will also provide carbon filtration systems for homes whose wells had chemical levels above the federal standard.
While the Department of Natural Resources may enact new rules related to the chemicals, it could be years before this issue is resolved.
[Sources: The Capital Times ; Associated Press ]