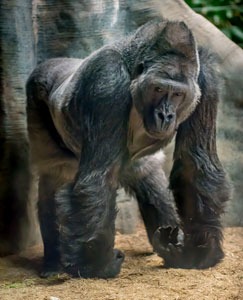 In April, two adult gorillas died at the Milwaukee County Zoo in Southeastern Wisconsin. Investigators recently determined that their cause of death was an E. Coli contamination in drinking water.
Cassius, one of the gorillas, was 31-years-old when he died on April 12. He was the leader of the family group of gorillas and considered the dominant male. Cassius began to show signs of illness in early April when he refused to eat or drink. He received emergency medical treatment after his partner, Naku, fell sick.
Upon falling sick, Naku was immediately sent to surgery. Unfortunately, the surgery was not successful. Before results came back from Cassius, Naku died on April 30 at the age of 17.
The University of Wisconsin School of Veterinary Medicine performed necropsies on both gorillas. Vickie Clyde, Milwaukee County Zoo's staff veterinarian, then announced that both animals had "severe and extensive lesions in their intestines." The necropsies revealed that the gorillas passed away from the same gastrointestinal infection that is tied to E. Coli. The bacteria is most likely associated with the gorilla exhibit's water system; however, it is impossible to tell from where exactly the bacteria came.
In response to this tragedy, the zoo's gorilla exhibit has been deep-cleaned and its water-supplies disinfected. The Zoo is also changing protocol for feeding and watering the animals. A new water-cleaning routine is currently in the works.
The death of Naku and Cassius left their child, eight-month-old Zahra, an orphan. The gorilla exhibit is currently closed as zookeepers help Zahra adapt. Because she is so young, she is under 24-hour care.
Shaila, an adult female, and Sulaiman, a male and child of Shaila and Cassius, are the other two gorillas in Zhara's family group. The Zoo hopes that Shaila could be a surrogate mother for Zahra, but for the time being, zookeepers continue to mother her.
[Sources: Milwaukee Journal Sentinal ; Newsweek; ABC Eyewitness News 7 ]