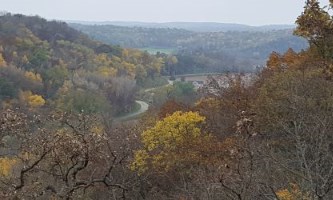 Dane County Executive Joe Parisi announced recently that local benefactor Stephen Morton donated 114 acres of forestland to Dane County Parks. Located in the Black Earth/Mazomanie area, the newly-unveiled Morton Forest illuminates many scenic views including the Blue Mound, which is the biggest hill in southern Wisconsin.
"I donated my land to Dane County Parks because I felt, given our expanding population, it was important to protect open space and create quite places of solitude for people to visit as an escape from their more crowded urban environments," said Morton.
And the new Morton Forest, which is located in the Driftless Area, will certainly draw crowds: the landscape includes gorgeous trails, multiple timber frame shelters—also donated by Morton—for overlooks, and a nature center purposed for outdoor education and special events. The park will also offer a plethora of opportunities to visitors like snowshoeing, cross-country skiing, hiking, and archery hunting (permit required).
To maintain the Forest well into the future and cover general operating costs, the Madison Community Foundation helped established a $230,000 permanent Morton Forest Endowment.
Dane County Executive Parisi is grateful for Morton's generous donation and excited about the impact it may have on Dane County residents.
"Dane County has some of the most beautiful county parks in the nation," said Parisi. He also thanked Morton "for his generous donation that so many in Dane County will now be able to enjoy."
Whoever you may be, whatever interests you may have—Morton Forest has something for you. Thanks to Morton, anyone who visits the new park can escape reality for a while, immerse himself in nature, and return to his roots in the great outdoors.
[Source: News-Sickle-Arrow ]