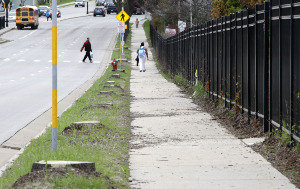 A recent emerald ash borer outbreak has affected thousands of trees across Wisconsin. Many of the infected Ash trees need to be cut down. Madison Community Foundation recently helped launch a project to bring life back into the dead trees.
The trees, which were cut down as a result of the infection, will be distributed to local artists for a project called Phoenix from the Ashes, which will allow ten artists to display their art at the Overture Center in 2019. Each artist will earn a $1,500 grant for their efforts.
Karin Wolf, Madison's arts program administrator, envisions how this project can positively impact the environment and be beneficial for the local arts. This plan is a collaboration among Madison Parks, Wisconsin Urban Wood, Madison Arts Commission, and the Phoenix from the Ashes project. They have altogether gathered about $75,000 for the project.
Bob Sorge, Madison Community Foundation president stated, "While the emerald ash borers impact on our city's tree canopy is devastating, our community now has an uplifting story of the social, economical benefits of conservation and renewal."
Essentially, this project allows creativity to be deployed in an environmentally friendly manner. In addition, having lost thousands of trees to the horrendous invasion of the emerald ash borer, spirits are kept high throughout the Madison community. In fact, over 3,000 trees have been restored into the environment, keeping the tree population and creativity levels high.
However, these infectious bugs are still on the move. Emerald ash borers are small insects that live under tree bark, and this destroys the tree's water and nutrients supply. About 22 percent of Madison's trees are ash trees. Over 6,000 trees have been removed, according to the count conducted earlier this year.
But, it is not too late to hold on to hope. With this project, removed trees are on their way to becoming beautiful creations. That being said, although recent events concerning the damaged trees might be seen as a tragic event, it also seems artistry has the ability to transform and recreate life.
[Sources: City of Madison ; Madison.com; Madison Community Foundation ]