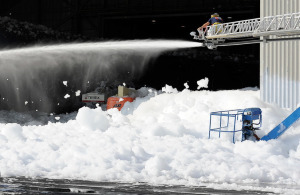 PFAS, hazardous chemicals found in Madison water wells and bodies of water, are in the news again. New revelations from a group called Midwest Environmental Advocates (MEA) show that Dane County and the Madison Water Utility failed to respond appropriately to open records requests filed in 2019.
MEA is an environmental advocacy group and has filed a lawsuit on behalf of local citizens.
PFAS contamination was first discovered in Madison in June 2018, arising from firefighting foam used in training near the Dane County Airport. Since then, PFAS have been traced to Starkweather Creek, Lake Monona, and 14 of 23 of Madison's city wells. The county and water utility response has been overall lacking, though the chemical has been connected to cancer and other illnesses, according to the MEA lawsuit.
According to Wisconsin State Journal reporter Chris Hubbach, MEA and the citizens it represents, followed Wisconsin public records law and requested Dane County records.
However, after submitting requests for emails from County Executive Joe Parisi regarding PFAS contamination, MEA was given irrelevant records and were told the county was not able to adequately conduct a search with the key terms cited in the request. Although the requesters additionally clarified search terms, the county still did not fulfill the request, which should have taken about ten days rather than 105 days.
Madison Water Utility also denied MEA's clients on the grounds that the water utility could not give up records from an ongoing investigation or records from other government entities, neither of which is a valid reason to deny a request under state law, according to the Wisconsin State Journal report.
The county and water utility have not issued any comments to reporters in response to the MEA lawsuits.
MEA says it will continue to ask for withheld records and defend the public's right to know.
[Source: Wisconsin State Journal ]