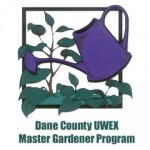 The Dane County UW-Extension (UWEX) Master Gardener Volunteer program educates people in Dane County on how to grow and take care of plants and other natural resources. People who volunteer in the program use the information they learn to enable them to answer residents' questions about gardening through face-to-face contacts, phone calls or emails. Experts within the Master Gardener Volunteer program who can answer more specific questions are also available.
To become a Master Gardener Volunteer, participants take classes in horticulture in order to fully understand the questions they will answer. Master Gardener Volunteers are expected to use their knowledge and skills to give back to the community. As a class requirement, participants must attend 17 class sessions and complete at least 24 hours of volunteering at local places such as homeless shelters, police stations, schools, public gardens, the Dane County UWEX Teaching Garden and community gardens.
At five area farmers markets (Westside, Fitchburg, Monona, Monroe Street and North Side) they volunteer at a stand called "Ask a Master Gardener", where local residents ask questions about gardening. Master Gardeners also provide educational programs at libraries and schools through their Speaker's Bureau. At these events, a few experienced Master Gardener Volunteers speak about what they do in the program and educate people about horticulture. For example, the Vegetables 101 is a one-hour presentation that teaches local people how to grow and take care of vegetables, followed by a question and answer session. Master Gardeners also provide help to those with disabilities who want to garden in public garden spaces, but require further assistance to do so.
As a way to educate both the public and Master Gardeners, Lisa Johnson, Dane County UWEX Horticulture Educator, started the Teaching Garden project located outside of the Dane County UWEX building. With the help of teams of Master Gardeners and other supporters, the teaching garden was inaugurated this year on July 11th. The garden is divided into 12 areas, each with its own unique plants, tended by Master Gardeners. Thousands of hours were put into making QR codes for each plant, which, if scanned, offer more information on the plant. Virtual tours can be done at https://dane.uwex.edu/horticulture/teaching-garden/ . To schedule a tour at the garden, contact Lisa Johnson at 608-224-3715.
People who want to learn the skills it takes to become a Master Gardener Volunteer but who are not interested in the program's volunteering aspects can participate in the Green Thumb program. The Green Thumb program does not require participants to volunteer or to take communication classes. Rather, they walk away with skills they can use to benefit themselves in their own gardens. The Green Thumb program is held on Thursday nights and starts in late February and runs through the end of April. For more information, visit https://dane.uwex.edu/horticulture/greenthumb/ .
The Master Gardener Volunteer program enlightens the public about the importance of plants in their community through the work of volunteers and experts. To find out more about the Master Gardener Volunteer program, visit https://dane.uwex.edu/ or contact them at horticulture@countyofdane.com.
[Source: https://dane.uwex.edu/ ]