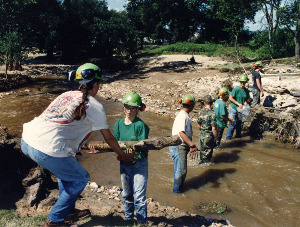 The Wisconsin Conservation Corps was a work program aimed at helping public or tribal lands in the state. The program employed more than 11,000 young people during a 20-year run, until it ended. It was eliminated in 2003 by Democratic Governor Jim Doyle and GOP lawmakers due to a 3.2 million dollar budget deficit faced by the state.
Now there's an effort to bring it back. The new program would focus on environmental conservation projects that are not high-priority level, but are necessary to keep state parks and other sites in good condition. According to Representative Jeff Mursau, R- Crivitz, this is significant because more than 17 million people visit Wisconsin state parks contributing about 1 billion dollars to the state economy.
If the program goes forward young people between 16 and 25 years old would gain experience and skills by working on trail construction, invasive species management and recreation site maintenance. Only up to half of this youth could hold a college degree or come from families that make more than 200 percent of the federal poverty line.
So after 15 years it's likely Wisconsin's [Youth] Conservation Corps is coming back. The idea seems to have support from around Wisconsin. For instance the Green Bay Press Gazette recently published a strong editorial supporting the concept.
With help from Mursau, Assembly Bill 688 passed with both Democrats and Republicans supporting it. The bill calls for 400,000 dollars of funding from other government agencies and includes several requirements for youth eligibility. The senate will take up the bill soon, and then it's up to the Governor to sign it into law.
[Source: Associated Press and Madison.com greenbaypressgazette.com ]