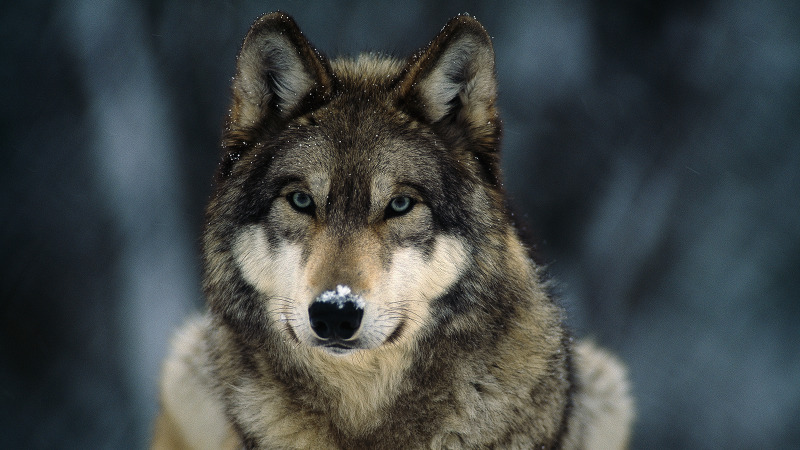 Wisconsin Wolves Removed from Endangered Species List, but Controversial Hunt Leaves Future Uncertain
by Moises A. Hernandez, age 16
Wisconsin's gray wolf population increased by 13 percent in one year according to a survey conducted by the Wisconsin Department of Natural Resources (DNR) between April 2019 and April 2020. This growth is attributed to the protections put in place by the federal Endangered Species Act in 1974. That rapid growth led to gray wolves being removed from the federal endangered species list in late 2020.
In 1985, the wolf population was as low as 14. Between 1990 and 1995, it rose from 34 to 83. It then increased from 248 to 815 in a matter of only 12 years. As a result of the protections under the law, the DNR's overwinter wolf count rose from about 914 to 978 in 2018-2019 to 1,034 to 1,057 in 2019-2020.
"Wolves have a place in Wisconsin and the DNR is committed to keeping wolves on the landscape at biologically and socially-acceptable levels," Randy Johnson, a large carnivore specialist at the Wisconsin DNR.
"Wolves are a native species in Wisconsin and their recovery from being effectively eliminated during the last century is a conservation success story and should be celebrated," Johnson stated. "Having wolves on the landscape is an important piece of the ecological puzzle, and they also provide a sense of wilderness that many people appreciate. Wolves are also of great cultural significance to the Ojibwe and other tribes in the state."
There are significant variables that impact the number of wolves in a region, including the amount and weakness of prey, diseases, and climate. The key data for management purposes is whether the population is steady, expanding, or diminishing, which is why the DNR's yearly wolf surveys are intended to follow those patterns, not recognizing the drivers behind them. Education in regards to wolves and how to live with them has become and will unquestionably continue to be significant.
There are some evident consequences of having an increased number of wolves in nature. These carnivores can lead to the loss of livestock and domestic animals. Between April 2019 and April 2020, there were approximately 90 confirmed wolf complaints in Wisconsin, while only fewer than 70 the year before. Because of this, the DNR collaborated with the United States Department of Agriculture (USDA) Wildlife Services to create a wolf conflict program attempting to address any problems.
In 2020, there was an increase in clashes with domesticated animals and hunting dogs, but the incidents still continue to resemble the normal that has existed throughout the most recent five years.
"Regardless of the numbers, these events are tough and stressful situations for those involved," Johnson said.
"Historically, we've seen wolves disperse into new habitats and establish wolf packs in new areas of the state as their population has increased," Johnson said. "However, in the last few years this expansion has mostly seemed to stop as packs have for the most part filled all of the available suitable habitat in the state ... Individual wolves are well-known to travel great distances as they set out to establish their own territory and therefore can show up just about anywhere in the state."
This is not the first time wolves have been delisted as an endangered species. Most recently they were delisted by the federal government on January 27, 2012. On April 2, 2012, Wisconsin designated gray wolves as a game species and a hunting and trapping season began that year to reduce the population in the state. One hundred seventeen wolves were hunted and trapped in the 2012-2013 season, 257 in 2013-2014, and 154 in 2014-2015. The harvest accomplished its goal of lowering Wisconsin's wolf population to 660 in 2014.
It ended there though, as, in December 2014, wolves were placed back on the federal Endangered Species Act. The wolf population increased once again and reached 925 by 2017 before reaching approximately 1,034 today.
The DNR is required by state law to hold a controlled wolf hunting and trapping season when wolves are delisted. The DNR collaborates with a number of partners to hold a hunt with the aim of maintaining a stable and sustainable wolf population while minimizing negative experiences.
Maintaining a stable population has proven more difficult than anticipated, however. A recent lawsuit brought by the hunter advocacy group Hunter Nation Inc. forced Wisconsin to hold a wolf hunt earlier than first planned. State wildlife officials set a quota of 119 wolves for the hunt, but hunters surpassed that quota in just three days. In total, licensed hunters killed 216 wolves in that time, about 20 percent of the wolf population. Unlicensed hunters are also reported as joining in the hunt, but their impact has not been determined.
Time will tell if we will see a repeat of 2014 and a relisting of Wisconsin's wolves on the federal Endangered Species list, but experts are not optimistic.
Adrian Treves, a professor of environmental science at UW Madison, expressed concern about the hunt. Treves said in an interview that "I think what the Wisconsin wolf hunt shows us is how quickly a determined group of hunters and poachers can reduce a wolf population to the level where it's going to be endangered again."
[Sources: Wisconsin State Journal; Madison.com; MPR News; Milwaukee Journal Sentinel; Science Friday; Star Tribune; The Washington Post]