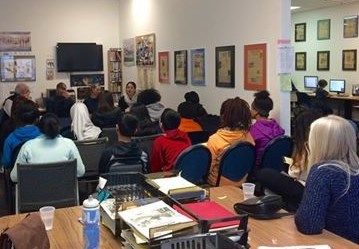 One effective way to conserve is to spread awareness about environmental issues. We at Simpson Street Free Press know this well and emphasize energy and environment topics in our curriculum. Members of the Wisconsin chapter of The Nature Conservancy (TNC) recently visited our South Towne newsroom to present a panel around the theme "Conservation and the Environment."
According to their mission, TNC is "the leading conservation organization working around the world to protect ecologically important lands and waters for nature and people." Four dedicated members of the Conservancy in Wisconsin—Hannah Spaul, Nick Miller, Paul Heinen, and Karla Noboa—served on the panel. I had the wonderful opportunity to lead the panel and the question and answer session that followed.
After a brief introduction, each panelist talked about his or her work in relation to the Conservancy in Wisconsin. Spaul, Director of Land Management, has worked for TNC for 18 years in a variety of land stewardship capacities. Miller is the Conservancy's Science Director and helps bring science to conservation policy and strategies. Heinen works as TNC's State Government Relations Director. And Noboa serves as the Conservancy's Outreach Coordinator.
Each panel member touched on the threats currently facing the environment—both locally and globally. Student questions to panelists ranged from queries about the terms "conservation" and "preservation" to inquiries about the political climate surrounding environmental issues today.
All of the panelists provided useful information and advice about how individuals can conserve every day. Student reporter Sarah Useche especially enjoyed their advice to young people who aren't exactly sure how they can play a positive role in global conservation efforts.
"I think it's really cool and inspiring that the panelists think young people can make a difference in our environment. Mr. Heinen suggested that those of us who are 18 can make our concerns heard by voting. And for those of us who aren't 18, we can encourage our parents, teachers, and older friends to vote and protect all that matters to us," said Useche.
Staff and students at Simpson Street are very grateful to the Wisconsin chapter of The Nature Conservancy. We thank Spaul, Miller, Heinen, and Noboa for a fascinating and illuminating experience. We look forward to an ongoing partnership with the TNC and are reinvigorated in our efforts to bring important environmental news to our readers and community.