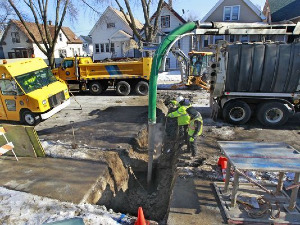 by Sylvan Bachhuber, age 17
Controversy and concern over lead pipes and safe drinking water is exploding in Milwaukee.
New reports in the Milwaukee Journal Sentinel and elsewhere show city leaders knew about the situation at least three years ago and delayed taking action. Now citizens and a concerned public are calling lead contamination in the city a "public health crisis."
Recently, 30 activists gathered outside of Milwaukee mayor Tom Barrett's office to protest his response to the city's lead pipe crisis. It was discovered that Barrett's administration was informed of the threat antiquated lead pipes posed to the city in a 2015 memo, but did not follow the advice the memo provided.
The memo —written by Milwaukee's former director of disease control, Paul Biedrzycki—warned officials that replacing the water supply would disturb the pipes and cause lead poisoning. Additionally, it gave suggestions for mitigating the effects of contaminated water, including providing filters to affected families.
"I firmly believed that my summary would create a sense of urgency and action on the part of the city...When that didn't happen, I was dumbfounded," Biedrzycki told the Milwaukee Journal Sentinel .
The memo was sent directly to Bevan Baker, former Milwaukee Health Commissioner who was recently forced from his position after news broke that his department failed to follow up and provide services to the families of thousands of children. Barrett claims it was never passed on.
District 10 Alderman, Michael Murphy was shocked that the memo was never sent Barrett. In an interview with the Milwaukee Journal Sentinel he said, "I'm still perplexed and somewhat amazed how that could have fallen through the cracks. I'll take the mayor's comments at face value, but to me, it just seems fairly amazing that that had not been communicated—the seriousness of the issue—to him."
Two months after the memo was sent, Baker called a meeting with the mayor. Barrett asked Biedrzycki to put together a brief on the issue of lead service lines.
Biedrzycki then warned the city officials they would see an increase in drinking water lead concentrations if the pending water main distribution project was brought to fruition. The best solution, Biedrzycki argued, would be a full replacement of the city's lead pipes.
The Barrett administration did not take Biedrzycki suggestions and instead conducted its own pilot study on the impact of replacing service mains, and what that could mean for lead concentrations.
In years prior, several studies had clearly linked replacing water mains with an increase of lead in drinking water. The U.S Center for Disease Control and Prevention officially warned health leaders on the dangers of partial replacements of lead service lines in 2010. Barrett's results were consistent with this conclusion, and many felt that the study was unnecessary.
"We're not sure of the exact intent of the pilot study in terms of outcomes and usefulness," Biedrzycki wrote to Milwaukee Water Works Superintendent Carrie Lewis.
Following the pilot study, Barrett ordered a stop to water main replacement projects in areas where lead pipes were suspected. He also allocated funding for the replacement of 1,300 lead pipes and supplied thousands of filters to affected families. Recently, a resolution was passed by the Milwaukee Common Council to accelerate and improve their response to the lead poisoning crisis. The resolution broadened the parameters of Health Department programs and called for an update of educational materials.
Barrett stands by and defends his response to the crisis. A statement issued by his office after the protest said, "Mayor Barrett continues to take the health and safety of Milwaukee residents seriously. Decisions are based on data, the science provided, and the resources available."
Still, many Milwaukee citizens are frustrated that the administration took so long to address the issue. Activist Robert Miranda said in an interview, "We have a massive coverup in this city over lead in our water."
[Sources: Milwaukee Journal Sentinel ; Associated Press ]