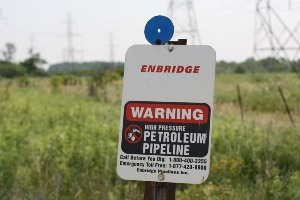 Enbridge Inc., a Canadian energy transportation company, is facing a federal lawsuit from the Bad River Band of Lake Superior Chippewa. Line 5, a 66-year old pipeline carrying 23 million gallons of oil daily, runs 12 miles through the nation's Wisconsin reservation. This pipeline is likely to rupture, causing a massive oil spill in the Bad River ecosystem.
The Bad River Band had agreed for the pipeline to remain on its land under an easement established in the past. However, after Enbridge's easements expired in 2013, the company continued to transport fossil fuels without the tribe's permission. Enbridge argues most of the tribe's land where the pipes are located is covered by a different 50-year old agreement that expires in 24 years, despite the perpetual risks of rupture. Enbridge is attempting to renegotiate easements with the tribe.
The soil supporting the pipeline is slowly being eroded by the Bad River. As the support is washed away, the pipeline is subjected to rupture due to its heavy weight and the possibility of being hit by falling objects.
This was not the first incident Enbridge faced regarding its oil pipes. In 2010, one line released 800,000 gallons of oil into the Kalamazoo River after rupturing. The state of Michigan is also in the process of suing the company in order to avoid similar events in the future. In response to that suit, Enbridge is denying any issue with two sections of Line 5, located underneath the Straits of Mackinac in Michigan. The company also adds if the pipeline is to be removed, it would affect Michigan's energy market.
The company announced it was open to rerouting the aging pipeline in order to resolve the Bad River Band's suit and using $500 million to install a tunnel in the Straits of Mackinac to protect Line 5.
[Sources: Associated Press ; WPR; Dane County Planning & Development Department ]