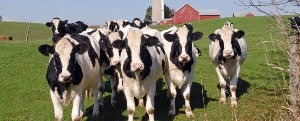 Wisconsin is known nation-wide as the dairy state, producing daily quality dairy products such as milk and cheese. However, the practices and conditions in dairy and swine operations have recently sparked controversy as they have resulted in major effects on the water quality in the state.
In an article published in the Wisconsin State Journal , researchers found that manure from agriculture operations polluted several wells in southwest Wisconsin, resulting in bacteria and chemical infested drinking water in the region. Out of ten studied wells, four were contaminated and contained contamination rates equal to or worse than regions targeted by state water regulation and protection. Out of 301 wells studied in Iowa, Grant, and Lafayette counties, 41% contained rates that surpassed the permitted standards for human waste bacteria in the waters. Specifically in Kewaunee County, 33% of test wells were polluted and data indicated that contamination rates were as high as 26% to 28% across the county.
Lynda Schweikert, administrator of Grant County's conservation, sanitation, and zoning department stated, "I was surprised that it was as high as it is. Now I'm just interested to see what is causing the contamination."
The tested wells were studied in November for E. Coli and Coliform – bacteria which can indicate the possible existence of other pathogens that can cause sickness and flu-like symptoms. Additionally, nitrate presence was analyzed as high concentrations have a correlation with deadly methemoglobinemia, or blue-baby syndrome. Other effects of a high concentration of nitrate in drinking water include health risks for adults such as thyroid disease and cancer.
Wisconsin's Department of Natural Resources recommends annual well testing. However, various residents who participated in the research reported that these tests are not conducted as frequently as needed.
When it comes to the protection of Wisconsin waters, in 2018 Scott Walker authorized stricter conditions for manure disposal in 15 Wisconsin counties containing vulnerable ground waters. However, the standards have yet to be enforced due to technical requirements excluded from the approved policy established in 2018 by Walker and the Natural Resource Board. These standards are being developed by the state Department of Agriculture Trade and Consumer Protection and will detail how farmers will measure their land's depth to bedrock. This measurement will play a role in limiting the amount of discarded manure permitted in each region.
As of now, there are faulty protections as pollutants on land continue to enter soil by rain and snowmelt. Due to fractured and porous bedrock, aquifers – from which many Wisconsin residents draw their waters – carry contaminated water. Though septic systems and agricultural practices are to blame for some contamination, there is a possibility that these wells simply need upgrades.
Ken Bradbury, a state geologist who helps lead these studies, states that recent information on Wisconsin's conditions justifies the application of manure regulations. Additionally, by the end of the study in 2020, scientists plan further research into the components of water contamination and pollution.
"Now that we're beginning to get some solid data sets we can begin to compare the results to physical parameters such as bedrock depth, soil type and well construction in order to determine the most important factors controlling well vulnerability," Bradbury said.
As the study progresses more wells will be tested for similar problems. A second-round of well sampling is anticipated in the future. Researchers will evaluate the water's condition and see if pathogens in the water originate from agricultural deposits and operations.
[Sources: Wisconsin State Journal ; WI DNR; Southwest Wisconsin ]
---
---