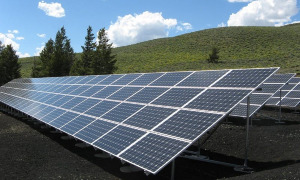 Discussions about renewable energy are always critical topics here in Dane County. These issues are especially relevant in today as climate change and other global issues have sparked the need for more sustainable practices and alternative ways to produce energy.
At a local level, counties often take the lead toward a sustainable future. In fact, recent land purchases by Dane County are important steps for expanding and supplying renewable energy to our area.
Recently, Dane County purchased 120 acres of land east of the town of Cottage Grove to create a new solar farm. The county hopes to begin this new project in 2021. It's part of a plan that will broaden the local availability and use of renewable energy. The purchased land includes 109 acres of farmland which was recently bought for $2.5 million along with an adjacent county-owned portion.
Compared to previously planned solar projects such as the 9-megawatt construction near the Dane County Regional Airport, it is estimated this new plot will support a solar energy facility twice that size.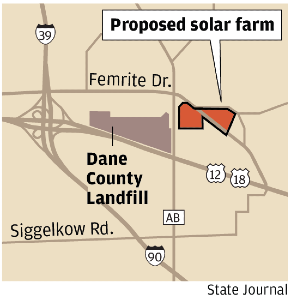 In total, with the creation of these new solar projects, Dane County operations are anticipated to return to 100% renewable power, a status that was maintained until the county sold landfill gas for fuel rather than burning it to produce electricity.
As of now, state regulators are considering possible collaborations with Madison Gas and Electric (MGE) in the construction of the 9-megawatt solar farm near the regional airport. This proposal would dedicate 41 acres of land to solar power generation and, if approved, would allow MGE to sell outputs to the county for 5.8 cents per kilowatt hour for the next 30 years.
Currently, Dane County has more solar panels than any other county in Wisconsin. Specifically, 600 kilowatts of solar panels are installed across 16 Dane County properties. Additional installations are planned near the Dane County Sheriff's Training Center in Waunakee, Consolidated Food Services, and other parks equipment facilities.
County Executive, Joe Parisi, stated "Dane County is proud to be a renewable energy leader in Wisconsin, taking bold steps to demonstrate that a climate resilient and carbon-free future is within our reach".
Not only will this solar expansion project save money for the county, but it will also decrease greenhouse gas emissions and create a local clean energy system, while at the same time tackling the issue of climate change.
Parisi and other local officials hope more Wisconsin counties will continue to follow these footsteps toward a future reliant on renewable energy, and that the global concern on issues such as climate change can be confronted and resolved.
[Sources: Wisconsin State Journal ; madison.com ]