Conservation Fund Purchases Pelican River Forest
by Kelly Vazquez, age 17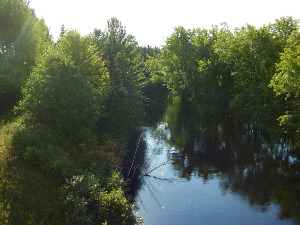 After two years of negotiation, the Conservation Fund (CF) of Wisconsin has purchased an estimated 70 thousand acres of forest land and named it the Pelican River Forest. The expected outcome is to preserve these lands for public use—such as hunting, fishing, trapping, and logging—and obtain easements to permanently protect them against development. This way CF can support the economy of the area while still providing protection for the forest.
This is not the Conservation Fund's first time performing a similar project. In 2015, CF bought the Brule-St. Croix Legacy Forest. It contains 65.8 thousand acres of land, which have been protected since its initial purchase. This has been done for over 113 thousand acres of land since 2001.
Their recent purchase resides mainly in the County of Oneida, near the Mississippi River and Great Lakes. It has 27 thousand acres of forested wetlands—or swamps—68 miles of river, and hardwood forested uplands. It provides habitat to many animals, such as black bears, wolves, deer, bald eagles, and spruce grouse.
Clint Miller, the Conservation Fund's project manager for this deal, said the land is in a special place where hills and valleys were "scoured out" by glaciers and that the forest fills a space between the Chequamegon-Nicolet National Forest and the county forest. He included that the forest will remain privately owned and taken care of through forest management programs.
Jim Lemke, the Department of Natural Resources real estate section chief, said they are looking to buy an easement in the future. This easement will cost over 4.5 million dollars. This purchase is for 12.5 thousand acres of forest. He also stated that the easement will give access to multiple outdoor activities including hunting, fishing, and trapping.
The goal of the purchase of the Pelican River Forest is to support the local economy by providing recreational space and the raw materials for forest products. The natural environment will be maintained for carbon dioxide storage. Miller said that even though the Forestland Group has been providing public access, the recent purchase will additionally keep the logging roads open for six months every year.
Larry Selzer, the Conservation Fund President, said these easements are the start of creating environmental and economic benefits to future generations. In the announcement of the purchase, Selzer describes these purchases as ¨…one of the most effective strategies we have right now to combat climate change."
[Sources: Wisconsin State Journal ; Madison.com; Milwaukee Journal Sentinel ]