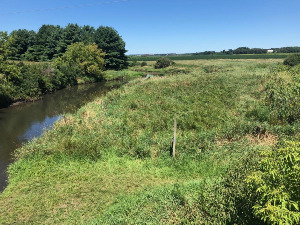 Dane County officials recently announced an important new land purchase in the Town of Verona.  This will be the county's largest conservation land purchase of 2020. The 160-acre acquisition adds to several other wildlife areas and natural resource areas near the Sugar River in southern Dane County.
This new purchase includes the confluence of Badger Mill Creek and the Sugar River, which is located at the southern part of the property. The area where these two streams come together (a confluence) is considered important to the ongoing conservation efforts in this part of Dane County. The property, and the various adjoining areas, includes fragile wetlands and other natural habitat for fish and wildlife species.
It is an area that has experienced flooding in recent years. The $3 million purchase allow local wetlands to be restored and protect the land from being developed. Protecting this area will also help the natural landscape better do its job of stormwater control and storage. Converting the land to its original prairie habitat will protect communities like Bellville, located further downstream. The Sugar River area has been affected by floods in recent years.
Dane County Executive, Joe Parisi, pointed out that the area will now offer even more recreation opportunities for hikers, fisherman, and paddle sports enthusiasts. The property has about 2,000 feet of frontage along the banks of Badger Mill Creek and 1,775 feet of frontage on the Sugar River.
The Dane County Board is likely to approve money for the purchase in the next few weeks. According to a recent article in the Wisconsin State Journal , funding will come from the county's Flood Risk Reduction Fund and the Dane County Conservation Fund.
County officials say the landscape will be restored and improved over time with a focus on grassland habitat to benefit declining grassland birds and animals, rare and endangered native plants, and pollinators that depend on native vegetation. Community partners, including the Southern Wisconsin Chapter of Trout Unlimited, are helping with the project. Trout Unlimited plans to donate $5,000 to support restoration work in the area.
Most of the property is currently used for cropland. There is also a small farmstead and some pasture and grasslands located on the property. The current owners, the Rhiner family, will live on the property and continue farming it for about the next two years.
[Sources: Wisconsin State Journal ; channel3000; Madison.com ]