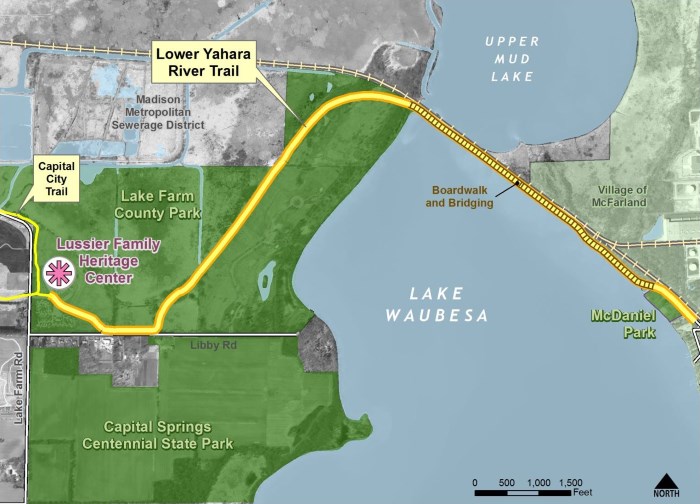 by Hugo Koop, age 17 and Christy Zheng, age 14
After 30 years of planning, the Lower Yahara River Trail is now open to the public. The highly anticipated trail connects McDaniel Park in McFarland with Capital City Trail in Madison. It does more than just bridge two places; however, it also ties two communities together.
The $8 million project required many years of planning, funding, and relationship building with nonprofits, landowners, and state institutions. The 2.5-mile trail connects the whole southeastern part of Dane County, linking two major trails.
As the Dane County Parks Website stated, "It will be the longest continuous bicycle pedestrian bridge and boardwalk system in the state."
This will improve transportation, providing more accessibility to natural areas. It will also provide more opportunities for outdoor recreation, such as access to fishing areas on the two lakes it spans. According to Darren Marsh, parks director of Dane County Parks, a purpose of the trail is to remove barriers for transportation and recreational use. It also provides economic boosts and gives community members a chance to experience and enjoy the natural surroundings.
The trail faced some environmental issues during construction, delaying the opening of the trail. But despite the bumps in the road, the planning and development of the trail will soon come to fruition.
Dane County residents can take advantage of this unique trail. The trail was scheduled to open to the public on September 1 st , but construction finished ahead of schedule and the trail opened August 27 th . Marsh hopes the trail will become a gathering place for families and communities.
"It's more than a trail," said Marsh, "it brings people together."
Dane County Parks, in conjunction with the Friends of Dane County Parks Endowment and United Madison, are hosting a unique Parks & Trails Unite Festival on June 2, 2018, National Trails Day, to celebrate this new trail. The goal of the festival is to unite, bridge and lift up our community while also celebrating the connections that our parks and trails provide.
The festival will be held in Lake Farm County Park and McDaniel Park in McFarland, now connected by the newly completed Lower Yahara River Trail boardwalk bridge. It will include live music, games and activities, demonstrations, food carts, pontoon rides, highlights of local natural and cultural resources, and opportunities to learn from each other and give back to our community.
United Madison has teamed up with Dane County Parks for the Parks & Trails Unite Festival because it aligns perfectly with their vision to "unite and lift up our community by providing opportunities for people to understand and learn from each other." One way the festival will support this vision is by providing event sponsors with the opportunity to pair with a local nonprofit and host a booth at the festival and give them a change to speak on stage to bring awareness to the nonprofits, and help them expand their volunteer staff.
Dane County Parks hosted a special preview event on September 20, 2017 that gave attendees a "sneak peek" of the new trail and festival grounds.
Funds raised from the Festival and Preview event will not only support the Dane County Parks volunteer program, a critical component in maintaining the county's more than 15,000 acres of land and 100 miles of trails, but will also support United Madison and local area nonprofits.
For more information about the festival, and sponsorship opportunities, please visit: http://danecountyparks.com/unite-festival . To help out at the parks, contact Rhea Stangel-Maier, volunteer coordinator, at stangel-maier@countyofdane.com . You can also check out a list of volunteer opportunities on the Dane County Parks website under the "get involved" tab, under "volunteer opportunities."