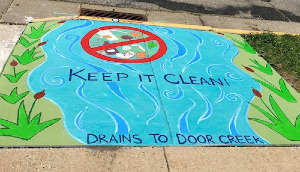 There is much to see in Dane County. Excellent museums, beautiful scenery, the state Capitol building, and the UW-Madison campus. In addition to its beautiful natural landscape, Madison has a rich and fascinating cultural landscape. We even have storm drains decorated with art.
While walking around downtown Madison or riding on a local bike path, you may have stopped to look at one of the many storm drain murals painted across the county. These interesting works of art are the result of a partnership between Dane County Land and Water Resources Department, the Madison Area Municipal Stormwater partnership and Dane Arts Mural Arts.
This local artwork is more than just pretty, it has a purpose.
The goal is to spread awareness that everything that goes down a storm drain washes to our local bodies of water and encourage residents to "Keep It Clean". While the murals catch attention from passersby, they also send a message. Many people are not aware that storm drain water doesn't get cleaned at a treatment plant before it enters our lakes, rivers and streams. It's up to all of us to take actions on land to keep our waters clean and make sure only rain goes down the storm drain.
Since 2018, 30 murals have been painted across Dane County. The murals are located in areas with lots of foot or bike traffic to attract the attention of residents. They're outside schools like Waunakee and Stoughton High Schools, and O'keefe Middle School. There are murals in downtown Middleton, downtown Waunakee, at Henry Vilas Zoo, and the UW-Madison Campus. Libraries in Fitchburg and Verona also have murals. The reaction so far from local communities has been positive. People seem to like their murals and would like to see more.
Applications for the 2020 Storm Drain Mural Program will be available in Dec. 2019. Municipalities, organizations, schools or community groups located in Dane County that are interested in having a storm drain mural painted in their community are encouraged to apply. Applicants have the choice of selecting a premade designs from a catalog or assisting with the design and painting process.
The reaction so far from local communities has been positive. People seem to like their murals and would like to see more. All mural supplies and painting costs are covered through this program. There is no cost to the applicant or municipality. Murals will be painted using traffic paint and have a life expectancy of 1-2 years.
Click here for more information or to view a map of all the storm drain mural locations.
[Sources: Dane County Department of Land and Water Resources ; Ripple Effects; Madison.com ]