Wisconsin Faces Major Water Contamination Challenges
by Gabriella Shell, age 14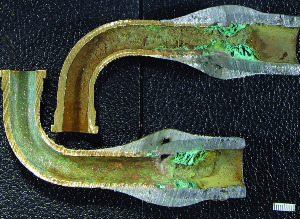 Almost everyone has heard of the Flint water crisis that rocked the nation back in 2016 and has continued to make national headlines since then. However, few know that Wisconsin has its own problems with water quality that it has been grappling with for decades.
As Flint continues to struggle with replacing all of their old lead pipes, Wisconsin is dealing with the same problem along with added issues of contaminants in local drinking water. With a system of unrecorded lead pipes that are extremely costly and dangerous to replace, along with decades worth of potentially harmful chemicals and nitrates leeching into the groundwater, Wisconsin's water system is more unstable and unsafe than meets the eye.
Flint Water Crisis
In 2014, the city of Flint, Mich., decided to draw its water from the nearby Flint River in order to save money while waiting to be connected to a new regional water system. Not long after, Flint residents began to complain about the taste, smell, and color of the water. Many also experienced rashes, hair loss, and other unpleasant side-effects. After an investigation into the water system, it was discovered that the old lead pipes running from the Flint River into households were corroded, and therefore contaminating the water, spewing lead and other toxins into people's faucets.
Lead pipes in Wisconsin
After the Flint water crisis made national headlines, states across the country began to examine their own water systems in order to eliminate any lead pipes still in use.
Wisconsin immediately began its own search, but ran into problems when it discovered that the state's regulatory agencies, including the Public Service Commission, did not have clear records of where lead pipes are located throughout the state.
Another problem Wisconsin has encountered is the mix of state and private sector-owned pipes. This makes it difficult for two reasons: first, the government does not keep track of privately-owned water pipes, so it has no idea where business or home-owned lead pipes are. Second, even if they could locate the pipes, the government is unable to use taxpayer money to replace the parts of the pipes they do not own. In response to the second issue, the Department of Natural Resources raised money for a pipe replacement program by renting out government-owned land for cell towers, and using remaining revenue from a Lambeau Field sales tax.
Problems arose when they got to the final, and most dangerous, step of getting rid of the lead pipes---actually replacing them. Because the most common way lead gets into water is through corrosion, replacing the pipes is a very delicate process. Adding new piping could agitate the lead dust, or react with the leftover lead, leading to even worse water conditions.
The Water Supply
Lead poisoning is not the only water crisis currently affecting Wisconsin. State regulators have found a dangerous amount of chemicals known as PFAS in drinking water supplies across the state. PFAS are a class of synthetic chemical compounds which, when ingested in high amounts, can lead to high cholesterol, obesity, liver damage, and cancer, among other illnesses. The increase in PFAS in Wisconsin's water supply is due to decades of use in firefighting foam and consumer products which wind up in landfills and for some residents, in their water supply.
There are increased concerns about PFAS in sewage leeching into the groundwater systems and poisoning our water. In 2019, the Wisconsin DNR embarked on a two-and-a-half year project to develop PFAS standards in drinking water and suggested developing benchmarks for PFAS in other places, such as aboveground water and sludge, in order to protect groundwater.
Concerns have also been raised about increased amounts of nitrate, the most common contaminant in our drinking water. Nitrate has been associated with birth defects, thyroid disease, and some forms of cancer, and is currently present in extremely high amounts in over 200 public water supplies across the state.
What Can We Do?
Wisconsin's Department of Natural Resources has been working to address these problems. Its plan has accentuated the need for protection against nitrates, and suggests using a nitrate mapping tool so that people can be aware of places where nitrate levels in water are dangerous, as well as ongoing communications with farmers to limit the amount of nitrogen that ends up in groundwater.
In addition, the DNR has also been strategizing on how to eliminate other harmful viruses and bacteria in drinking water, which they consider "fundamental to improve the quality of drinking water." Unfortunately, that is an uphill battle since there are so many kinds of potential hazards.
"There are just hundreds of thousands of life forms in the world and you can never test for all of them," said Bruce Rheineck, Groundwater Section Chief for the DNR, in an interview with the Wisconsin State Journal. "There's a lot to learn," he added.
Some experts say, in order to keep all Wisconsinites safe and healthy, swift action should be taken to pinpoint where lead pipes and dangerous contaminants are located in our water supply. That being said, the implementation needs to be careful, and not rushed, in order to guarantee clean water for all residents.
[Sources: Simpson Street Free Press Archives; Madison.com; Dane County; Wisconsin DNR]