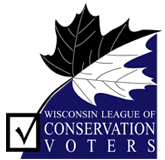 The Wisconsin League of Conservation Voters will celebrate its 15th anniversary on June 8.
A non-profit, non-partisan organization "dedicated to electing conservation leaders, holding decision makers accountable, and encouraging lawmakers to champion conservation policies that effectively protect Wisconsin's public health and natural resources," the League will celebrate a decade and a half of advocating for the state's water, land, and air.
The celebration, to be held at the Goodman Center in Madison, will feature Reverend Lennox Yearwood Jr., President and CEO of the Hip Hop Caucus, and spoken word performer Kavon Cortez Jones. The League will also present Simpson Street Free Press student reporters and youth leaders with a special award.
We encourage Friends of Simpson Street to join us at this tremendous anniversary celebration. We whole-heartedly support the mission of the Wisconsin League of Conservation Voters, and we encourage our readers to help sustain their much-needed work. Find more information about the event and ticket sales on their website or by phone at (608) 208-1131.
[Sources: Wisconsin League of Conservation Voters Press Release; conservationvoters.org]