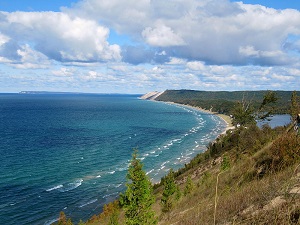 The city of Waukesha, west of Milwaukee, faces water problems. In the 1980's, Waukesha had to stop drawing water from a 2,200 foot-deep aquifer that paralleled Lake Michigan. This overused aquifer had quickly rising levels of radium and sodium in the water being pumped to the surface. The city decided to open a treatment plant to remove the radium which can potentially cause cancer of the bone, liver, or breast. The idea to extract water from Lake Michigan was proposed.
The Great Lakes Compact, formed in 2005, was created to make sure water stays in the Great Lakes. Summarized by Katherine Odell in the Capital Times, "To meet the requirements of the Great Lakes Compact, a community must show there is no other feasible alternative to Great Lakes water to meet its needs."
While the water problems in Waukesha is a big deal, other cities have faced the same problem and have successfully treated their existing water, without drawing water from the Great Lakes.
Waukesha's Water Utility proposed about a $334 million project for the diversion, which would increase utility bills from $260 annually to $900 by 2024. Waukesha has the option to seek federal funding.
If Waukesha takes water from a national resource such as Lake Michigan, or federal dollars for this project, it sends the message that other cities can abuse their natural resources, then borrow from another. If Waukesha is allowed to take water from Lake Michigan, it will open doors for other states bordering the lakes to do the same. It will undoubtedly become an ongoing problem for the Great Lakes Basin.
After hearing Waukesha's proposal, The Great Lakes Regional Body restricted the service area and amount of water that can be diverted and imposed a monitoring provision. Water diverted from Lake Michigan to Waukesha will be treated and returned via the Root River, which could cause its own set of problems. In addition, Waukesha should provide for the river's monitoring.
The Great Lakes are one of our most precious natural resources. We should not compromise their viability unless it's the last resort.
[Source: The Capital Times ]