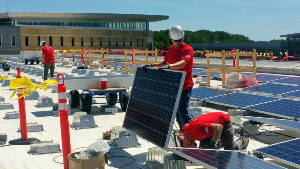 Set to begin summer of 2018, Madison Area Technical College will be adding a new feature to their campus. The largest rooftop solar system in Wisconsin will be implemented on top of the main Truax Campus building. Through a cooperation between Madison Gas and Electric, the program will bring alternative energy sources and new education opportunities to the Madison community.
Last year, Madison College was presented with a grant from MG&E to install a 1,400-kilowatt solar photovoltaic system. This project will convert sunlight into usable electricity. Behind this partnership is the Center for Renewable Energy Advanced Technological Education (CREATE), which supports two-year college renewable energy programs.
"On a sunny day, the system will reduce the college's peak electric load by about 50 percent. Averaged over an entire year, it will offset about 10-to-15 percent of the college's total electric consumption," says Ken Walz, chemistry and engineering instructor and the director of CREATE.
The campus is focusing on utilizing clean energy in place of fossil fuels. By implementing this change, the college will reduce their carbon emissions, and save more than $200,000 a year in electric expenses.
The new system will provide new hands-on learning opportunities for students. ranging from electrical engineers to architects, and members of the public. Renewable energy students will be able to install the solar system, check the solar system for any maintenance needs and review output data from monitoring technology.
This plan will push Madison in a new direction that will benefit the planet as well as the students at Madison College and the community.
[Sources: Madison College; MG&E; Wisconsin State Journal]