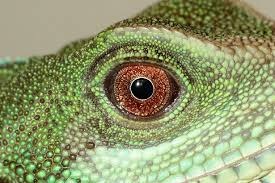 Reptiles prefer moderate temperatures. If they are too hot, they overheat, and if they are too cold, they are unable to move. Reptiles get warm in the sunshine and then go in the shade to regulate their temperature.
An early type of crocodile, Protosuchus, lived on land and dreaded water. It lived in North America, about 190 million years ago. It was three feet long and used its long legs to run across the barren while hunting.
Some reptiles move by using their tails. Early reptiles such as the Chasmatosaurus used their strong tails to propel through water and hunt fish. Other reptiles like the Cynognathus, had traits similar to mammals.
All reptiles differ in shape, size, and color. They still all have the same basic needs like food, water, shelter, and balanced temperatures.
[Source: 100 Things You Should Know About Pre-Historic Life]