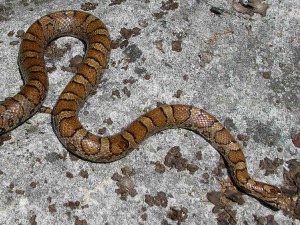 Scientists at the Wisconsin Department of Natural Resources (DNR) are searching for snakes that are very ill. These sick snakes have an illness called snake fungal disease. DNR scientists are looking everywhere for the sick snakes, and are even turning over rocks and logs.
Scientists are trying to cure the disease in these snakes because it has really bad effects on them. Snake fungal disease makes the reptiles unable to eat or drink. It also causes longer basking periods and makes it easier for predators to eat them. Without a cure, the disease could demolish all snakes.
This dangerous disease has been seen in many counties. Since 2011, sick snakes have been found in Dane, Buffalo, Crawford, Grant, La Crosse, Outagamie, and Trempleau counties.
Scientists at the DNR are asking people to send photos of injured snakes so they can find a cure.
[Source: Madison.com]