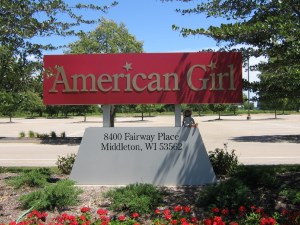 American Girl will host its annual benefit sale to help the Madison Children's Museum and its own Fund for Children this summer. This sale is a very popular event and typically brings in nearly 1 million dollars each year.
This year's sale will begin July 22 and end July 23. Tickets for the first day are eight dollars per attendee. On the 23rd, tickets are 20 dollars from 8:00 a.m. to 9:00 a.m. and free for the remainder of the day.
American Girl expects 300 volunteers to work on-site throughout the sale. Saturday will offer more merchandise, while Sunday will have the good deals. Most merchandise sold throughout the event will be at least 30 percent less than catalogue or in-store value. Some items' prices may be reduced even more depending on available stock. American Girl's "Girl of the Year" will be sold at its normal price of 120 dollars. "Girl of the Year" merchandise will also be sold at full price.
Both organizations benefiting from this event—Madison Children's Museum and American Girl's Fund for Children—will use this money to provide grants to charitable programs that service youth throughout Dane County.
This two-day sale usually attracts 7,000 people from all over the country. It is also the Museum's largest annual fundraiser.
SSFP staff and students encourage you to mark your calendars for this wonderful and exciting event. Together, we can all help our community and local young people grow.
[Source: madisonchildrensmuseum.org ]