Book Review: Aristotle and Dante Discover the Secrets of The Universe
by Benjamin Alire Sáenz
Reviewed by Sylvan Bachhuber, age 14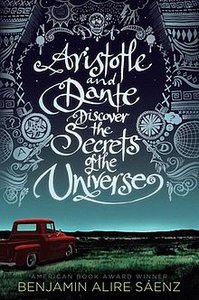 Aristotle and Dante Discover the Secrets of the Universe is a novel by Benjamin Alire Sáenz that takes place in New Mexico. The story follows two boys as they discover who they are and who they want to be. Reading this book helped me understand the personal struggles some people face and the distances they have to travel to find a true and genuine version of themselves.
At the beginning of the book, the main character, Aristotle, is lonely and detached. After he befriends Dante, an artistic and caring person, his life is transformed.  Throughout the book he and Dante share adventures and open up to each other. Because of this friendship, Aristotle is finally able to talk about his brother's imprisonment, an event that had haunted him for years.  Dante also shares his social insecurities and his fear of not fitting in. This book highlights the power of friends and family, and shows what people can achieve when they let their defenses down.
Although this book was written in the third person, Benjamin Alire Sáenz paints an intimate portrait of Aristotle. The beginning of the book seemed a bit slow and drawn out. As it progressed, however, the writing deepened and the plot thickened. By the end, I found this book to be a poignant and beautiful story.
Aristotle and Dante Discover the Secrets of the Universe is best suited for teenagers, but is appropriate for all ages. I would recommend this book to anyone looking for an emotional and entertaining story.


You can watch Sylvan's Book Trailer for Aristotle and Dante here.