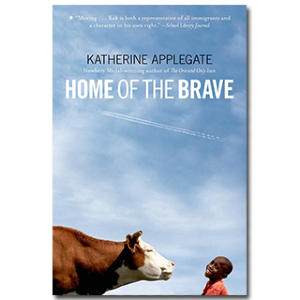 I recently read the book Home of The Brave . It is a novel written partially in verse. This book is about a boy named Kek, who lives in Africa. Kek lived with his mom, dad and brother. Sadly, Kek's father dies during the war in their country and his mother goes missing. So Kek has to fly in a plane to Minnesota to live with his cousins and aunt.
Throughout his time in Minnesota, Kek starts to become accustomed to his new home. He develops a friendship with a cow. The cow reminds Kek of his home in Africa. The cow, his new friends, and his beliefs help him settle in a new country.
Overall, I give this book a very high rating. I recommend the book to other young readers. Most people enjoy a great story and this is a great story. It's very entertaining and really funny. It taught me that home is where you have family and friends who care about you, and not where you were born. It inspired me and I hope it does the same for you.