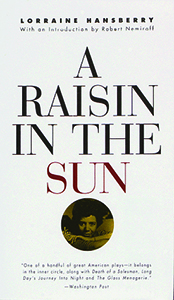 What would you do if you received $10,000? Would you spend it on yourself, your friends and family, or a total stranger? Lorraine Hansberry explores this question in the play A Raisin in the Sun. I read this play for my honors English class.
A Raisin in the Sun speaks the raw truth on racism, sexism, and ageism. Hansberry took the title from a line in Langston Hughes' famous 1951 poem, "Harlem: A Dream Deferred."
A Raisin in the Sun takes place in the 1950's on the south side of Chicago. It depicts the struggle of an African-American family as they find their place in society. Lena Younger, also known as "Mama," receives an insurance payment check of $10,000 for her husband's death. Mama lives in a two-bedroom apartment with her son, Walter; her daughter-in-law, Ruth; her grandson, Travis; and her daughter, Beneatha.
The second Mama receives her check, she is filled with a bittersweet feeling. While, the death of her husband is tragic, Mama needs this money to help her family get back on their feet.
Throughout the play, there is constant argument among all the family members about how they should spend the money. Walter wants to open a liquor store with his friend Bobo, hoping to gain self-respect and provide for his family's needs. This is a problem for Mama because she is morally repulsed by the idea of her family getting into the liquor business.
Beneatha, on the other hand, wishes to use the check to pay for her tuition to go to medical school. Ruth is torn between the wishes of her husband Walter and her sister-in-law. She wants Beneatha to educate herself and not have to depend on a man's salary, but also wants Walter to receive part of the money so he can build self-confidence and happiness.
A Raisin in the Sun is widely recognized for its brilliant portrayal of the daily struggles of African-Americans in the United States during the mid-20th century. The play addresses social issues such as racism, poverty and gender roles.
A Raisin in the Sun is also wonderfully written and the characters have multidimensional personalities that are easily relatable. I recommend A Raisin in the Sun to anyone who is interested in a poignant and eye-opening story.