Book Review: Revolution is Not a Dinner Party
Written by Yin Chang Compestine
Reviewed by Ali Khan, age 16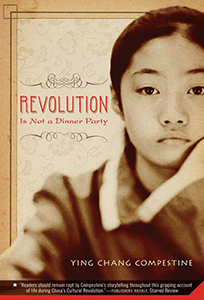 Yin Chang Compesine's novel Revolution is Not a Dinner Party tells the story of nine-year-old Ling Chang and her upper-class family during the 1960's Cultural Revolution in China. Led by the Chairman of the Communist Party Mao Zedong, the Cultural Revolution was a social-political movement that lasted from 1966-1976. The goal was to enforce communism and replace capitalist, traditional, and cultural ideals from Chinese society.

When Comrade Li, a political officer from Mao Zedong's Communist Army, moves into the Chang apartment by government order, the family must quiet their controversial views about China's politics. Forced to replace their prized Golden Gate Bridge photo with a portrait of Mao Zedong, Ling realizes her normally predictable world is falling apart.

I enjoyed this novel because it made me feel like I was not just reading about the Cultural Revolution; I was living it, alongside Ling. In one particularly vivid scene, Ling gives each of the bullies in her class an insulting nickname: this scene submerged me in Ling's experience.

I found this interesting because Compestine says that Ling's character is based on her own experiences. At the beginning of the novel, Ling emerges as a spoiled daddy's girl. For example, she refuses to eat anything slightly unpleasant, including jellyfish, fish tails, pig's liver, and bitter tea. However, in the novel's conclusion, when every Chinese family receives only small food rations, Ling never complains about any unpleasant food. In fact, she fights over anything edible. Despite the challenges she faces in communist China, Ling develops into a strong, outspoken woman.

I would recommend this novel to anyone interested in learning about Chinese history and especially to high school students studying the Cultural Revolution because it presents n accessible yet unique perspective on this significant historical period. R evolution Is Not a Dinner Party not only spurs readers to feel grateful for what they have, but also it inspires them to stand up for both themselves and their beliefs.