Song of Solomon
written by Toni Morrison
reviewed by Annie Shao, age 18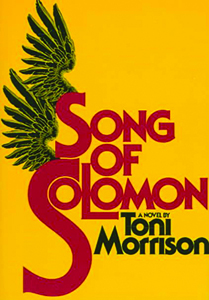 Macon "Milkman" Dead III, in Toni Morrison's Song of Solomon, was the first African-American baby born in whites-only Mercy Hospital. He was the result of his aunt's love potion that his mother slipped to his father. He is the grandson of Dr. Foster, the town's first black doctor, and of Solomon, the flying slave. He was born on the same day a life insurance agent publicly leapt to his death with light-blue cloth wings on his back.
For a person born under such bizarre circumstances, Milkman Dead is a remarkably boring person. Born into a high-class black family, Milkman was pampered for all 31 years that he lived with his parents. His emotional growth was severely stunted by his abusive father and distant mother. As a young child he dreamt of flying, but his imagination died after he learned that only birds and airplanes could fly. For the rest of his childhood and early adulthood, Milkman has no passions or motivation for anything.
His only escape from his oppressive household is to the house of his aunt, Pilate. The mystical earth-mother Pilate is the polar opposite of Milkman's cold businessman of a father. She makes her living by bootlegging liquor and lives a carefree, simple life with her daughter and grand-daughter, who are both fatherless. She is all-knowing from her experience of living on her own since she was young. For reasons unknown to Milkman, his father despises Pilate and forbids him from seeing her. Naturally, Milkman visits Pilate anyway, who treats him like her own son.
At age 32, Milkman starts wondering what ignited his father's hatred of his own sister. Finally longing for independence and control, he travels to Pennsylvania and Virginia to investigate the mystery of his slave ancestors. At first, Milkman struggles with a lack of wealth and comfort, but he learns new values his loveless family never taught him. Through his journey, Milkman finally grows emotionally—and eventually learns how to "fly" to independence and freewill.
It's hard to like a book with such a bland protagonist. What makes Song of Solomon enjoyable is how Milkman changes and grows as a person. The novel is not your typical coming-of-age story, but the way Morrison's bewildering plot comes together in the end makes it hard to put down. The complex and clever symbolism make Song of Solomon an essential part of a high school or college student's literature repertoire.